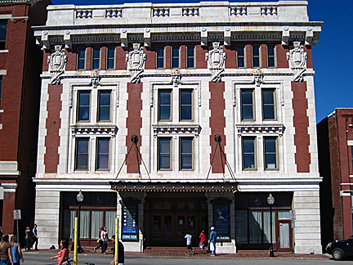 LANDERS THEATRE
The Springfield Little Theatre, the oldest civic theatre operation of its size in Missouri, and one of the largest in mid-America, has announced its 2016-17 season.
The eight productions are:
History of the theatre
Fire is in the history of the Landers Theatre and its predecessor the Baldwin Theatre, first on January 6, 1909, when the Baldwin was completely demolished, and then in December 1920 when reportedly a boiler explosion destroyed much of the Landers. Reopened in May 1921 as part of the Orpheum Circuit, the Landers attracted many famous touring artists and vaudeville acts. In 1970 the Landers was purchased by the Springfield Little Theatre organization that had been in operation elsewhere since 1934. The theatre continues to undergo a series of restoration projects, preserving its original Baroque Renaissance/Napoleon style architecture and decor thanks to contributions from Springfield individuals and businesses and the city of Springfield's Hotel-Motel Tax Matching Fund. Recent restorations of the 641-seat structure, placed on the National Register of Historic Places in 1977, have been cited with awards from American Institute of Architects.
The Springfield Little Theatre, a volunteer driven organization, is located at 311 E. Walnut Ave., Springfield. The box office is open Mondays-Fridays from 11 a.m. to 5 p.m. Season tickets went on sale on July 1, 2016; single tickets go on sale August 1, 2016. For online services go here. To avoid a $5 processing fee buy individual tickets in person using cash. Call the box office at (417) 869-1334.