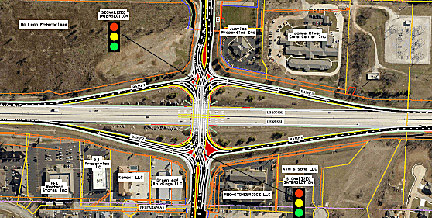 The drawing represents the latest Diverging Diamond Interchange to be constructed in Springfield at Battlefield Road and US 65.
Work contracted with Hartman and Company of Springfield at a cost of $12.5 million will begin on another Diverging Diamond Interchange (DDI) for Springfield that includes changing the traffic pattern leading up to the Battlefield Road bridge over Route 65. On January or early February 2015 the interchange will be converted to a diverging diamond, then the bridge will be reconstructed. Construction traffic impacts are expected initially from 7 p.m. to 6 a.m. with lane closings on both Battlefield Road and Route 65. During bridge demolition Route 65 will be closed for up to 30 hours on two different occasions with traffic routed over the ramps, ramps will be closed during the project for up to two weeks at a time, and Battlefield Road finally will be closed for up to 32 hours to switch to the final configuration around September 30, 2015.
The project highlights include:
Battlefield Road bridge over Route 65 replaced with a slightly wider and higher structure
Battlefield Road converted to Diverging Diamond Interchange design, which allows Battlefield Road traffic to make "free" left-hand turns onto Route 65
On Route 65, new southbound and a northbound auxiliary lanes built to connect Sunshine Street and Battlefield Road ramps
New traffic signal at Battlefield Road and Woodstock Avenue
A come-and-go open house will take place from 4-6 p.m. on November 18, 2014, in Room 210A at the Second Baptist church, 3111 E. Battlefield Rd., Springfield. MoDOT and contractor representatives will be on hand to show the plans for rebuilding the interchange. After November 18 the maps and displays will be available for viewing here.
People grumbled in 2009 after the construction of the 1-44 Kansas Expressway (Rte. 13) Diverging Diamond Interchange in Springfield, the first of its kind in the United States. Many still cringe when forced to drive through others now constructed in Springfield, including the one on National and the James River Freeway. But MoDot claims that their driver survey shows that 97% of drivers in Springfield feel safer after revisions were made to the DDI's original design (included in the US 60 @ MO-13 interchange completed in August 2013), a change that MoDot says resulted in a 50% reduction in collisions in a five-month comparison with the old interchange. Drivers were getting used to the mind-bending switch-overs.
According to a website devoted to the concept, the new DDI design eliminates congestion while maintaining these safety benefits: better sight distance at turns, less chance of wrong way entry into ramps and shorter pedestrian crossings. But what seems to be the driving force for construction of this type of road configuration is cost. A chart suggests that the Springfield I-44/Route 13 interchange with all its faults was constructed with a cost savings of 70%.
A map showing locations of diverging diamond interchanges that may be found here shows that the only states that have not even considered studying the configuration are North Dakota and New Jersey.