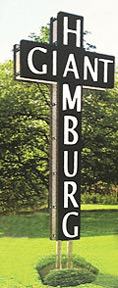 Thanks to a donation of $1,000 from Councilman Craig Fishel, the city of Springfield not only reached its first fund-raising goal of $15,000, it exceeded it. The $15,126 raised through local crowd-funding company CrowdIt.com will cover construction costs for a re-creation of the iconic Redís Giant Hamburg sign, a major landmark that stood along the Historic Route 66 Highway. The sign will be part of the Birthplace of Route 66 Roadside Park that will have a ground breaking ceremony in April 2014. The Redís sign will likely be installed this summer with a ribbon cutting for the park as part of the planned activities around the annual Birthplace of Route 66 Festival in August.
There's an interesting history behind the sign that was supposed to advertise Red's Giant Hamburger, a roadside diner expanded from a lunch counter in a wooden Sinclair Gas Station on West Chestnut Expressway. It was established in 1947 by Sheldon ďRedĒ Chaney and his wife Julia and the backing of Red's dad who sold a restaurant and cocktail lounge he operated in Illinois. In erecting the long skinny black cross-shaped sign, Red misjudged its potential height and wound up with the word "Hamburg" spelled down from the word "Giant," dropping the letters "e-r."
To be historically accurate the sign needs to have a '55 Buick parked in front of it, the car that Red put there presumably to keep customers from backing into his work of art. To attract attention the car had empty bleach bottles wrapped in foil attached to it blowing in the breeze and their rotation had special significance that varies depending on who is asked.
The diner was quite a hangout for locals or anyone else traveling Route 66. It was in business until it closed in 1984. The building that became ivy-covered deteriorated until it was torn down in 1997.
The Birthplace of Route 66 Roadside Park fund-raising initiative kicked off Oct. 2, 2013 with an event at Motherís Brewing Company, which is located along the historic route. At the Mother's event, business owners and classic car enthusiasts Guy and Dorothy Mace donated $2,500. West Central Neighborhood Association donated $3,000 at the event and later donated another $1,125. Several donations helped the fund grow quickly. Hy-Vee donated $1,000 during a week of fund raising for the project last June. Route 66 enthusiasts donated $500 at the Birthplace of Route 66 Festival last August.
The estimated cost of the Birthplace of Route 66 Roadside Park, including a plaza, sculptures, a picnic area and gateway and located on city-owned property on College just east of Fort, is about $1 million, according to Director of Planning Ralph Rognstad. While the city will provide funding to implement certain infrastructure improvements along the College Street stretch of Historic Route 66 between Grant Avenue and Kansas Expressway, it must leverage its investment in the project with private donations and other sources of funding. A larger plan to revitalize Historic Route 66 through other parts of Springfield could roll out in phases, as the city gauges interest and potential funding.
"We hope to make Springfield THE stop along the famed, historic byway," City Manager Greg Burris said. Joplin might have something to say about that.
For more information about College Street's redevelopment plans by the city of Springfield go here.
Enjoy this video of the song Red's sung by the Morells not long before the restaurant closed. Notice the prices on the wall that could feed a large family for what one hamburger costs today in most Springfield eateries.
---
Melissa Haase contributed to this report.
---