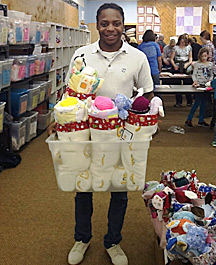 A volunteer at the Springfield Chapter of Newborns in Need shows a basketful of articles to be distributed while other volunteers sort and pack the baby clothing and bedding that is delivered to impoverished infants in 17 counties.
The Springfield Chapter of Newborns in Need, a nonprofit organization dedicated to providing free baby clothing and bedding to impoverished infants, is seeking volunteers for this holiday season and beyond.
"We provide free items for nearly 1,000 babies in 17 counties each month. And about 75 percent of the baby necessities we provide to the 70 agencies we work with are handmade," said Verna Needem, president of the Newborns in Need Springfield chapter. "Even though we have many people who knit, crochet, sew and quilt for us, we have a wide variety of other volunteer needs. We are asking for people who can help us sort the materials we receive, assemble and deliver layettes, and help with general office work.
Bass Pro Shops plays an important role in the local chapter's success by providing 3,500 square feet of building space in Springfield at no cost. The free building space gives volunteers the room to make, sort and pack 26 items into large layettes that go to hospitals in Springfield, Carthage, Monett, Aurora, Houston, Joplin, Branson and northwest Arkansas. During Christmastime, infant clothing and bedding are packed into large, festive stockings to add holiday cheer to these infant essentials.
In addition to providing infants with necessities such as quilts, sleepers, booties, bibs, hats and blankets, Newborns in Need also collects gently used clothing for newborns, toddlers and children up to 6-years-old. The organization creates emergency packs that go to doctors' offices, emergency rooms, WIC offices, health departments, schools, pantries and homeless shelters. Each package is customized so it contains items most needed by each particular agency.
In addition to needing volunteers, Newborns in Need is also seeking monetary support as well as donations of disposable diapers (size 1), plastic baby bottles and binkies, all items that are provided in the layettes.
The Springfield Chapter office is located at 712 W. Sunshine, just west of Bass Pro Shops flagship superstore. The office is open the following hours: From 9 a.m. to 2 p.m. on Wednesdays, Thursdays and Saturdays, and from 9 a.m. to noon on Tuesdays and Fridays. It is closed Sundays and Mondays.
To volunteer for Newborns in Need, contact Needem by sending an e-mail here or by phoning (417) 823-9508.