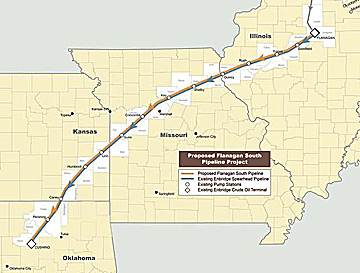 Proposed Enbridge Flanagan South pipeline
Keystone XL isn't the only Canadian tar sands pipeline in America. A Canadian company plans to start construction as soon as August on a stretch of a tar sands pipeline that runs through Missouri.Known as the Enbridge Flanagan South pipeline it would reach across 11 Missouri counties from the northeast to the southwest en route to Cushing, Oklahoma.
In the event of a mishap, the proposed nearly 600-mile pipeline would have a 600,000 barrel/day capacity, putting at risk the land and water of the people and wildlife of Missouri, Illinois, Kansas and Oklahoma, warns a spokesperson for the Missouri Coalition for the Environment.
Public comment is circumvented
The project is being fast-tracked through on a loophole in the Clean Water Act that allows, through a Nationwide Permit, a project to be exempted from having to conduct a project-specific review of their impact on water sources, rivers, communities and parks under the National Environmental Policy Act. The permit focuses on conditions around constructing the pipeline - not the risks if there's a failure.
The Flanagan South pipeline would be a 589-mile, 36-inch pipe carrying a tar sands product known as bitumen through about 208 miles of 11 counties in Missouri: Lewis, Marion, Shelby, Macon, Randolph, Chariton, Saline, Lafayette, Johnson, Cass and Bates.
Bitumen is not oil. And Bitumen is too thick for pushing through a pipeline so it's diluted with chemicals for the journey. Once diluted, it is called "dilbit" for "diluted bitumen."
The group calls the lack of public information and public involvement "appalling."