Legislative News
Senator Ron Richard (R-MO 32)
Majority Floor Leader
During the sixth week of session, we saw significant movement on a number of important pieces of legislation. On Wednesday (2-11), legislation designed to attract technology businesses and data storage center facilities to Missouri was perfected by the Senate. Senate Bill 149 creates state and local sales and use tax exemptions for data storage centers, and allows municipalities to enter into loan agreements, or sell, lease or mortgage municipal property for a technology business facility project.
Many do not realize that Missouri, especially Southwest Missouri, possesses several qualities that make it ideal for housing data storage facilities, which essentially provide the infrastructure for data processing. Our state boasts of more than 15 million square feet of underground space. Carved out of former limestone mines, these sites are perfect for warehousing large computer systems that must be kept in a consistent, temperature-controlled environment.
As technology's reach continues to develop and expand, data centers are quickly becoming one of the fastest growing industries. Senate Bill 149 will better position Missouri to attract data center businesses and their jobs to the Show-Me State, as opposed to continuing to lose them to neighboring states such as Kansas, Iowa and Nebraska. The measure now goes on the calendar for third reading and final passage.
Also perfected this week, Senate Bill 24 aims to reform certain aspects of how TANF and SNAP benefits are regulated and distributed in Missouri. Of all the individuals receiving TANF benefits in Missouri, it's estimated that only 15 percent are actually participating in a work activity. This percentage should be much higher. Senate Bill 24 seeks to get more Missourians working by encouraging personal responsibility and providing greater motivation to transition from receiving benefits to being financially self-sufficient.
The legislation creates the Missouri Working for Welfare Act of 2015, which will require eligible recipients to prove they are participating in a work activity for a minimum average of 30 hours per week before receiving TANF benefits; and reduces the lifetime limit for TANF benefits from 60 months to 24 months, among other provisions. Additionally, any savings resulting from changes to the TANF and SNAP benefits will be used to provide child care assistance for single parents, education assistance and job training for individuals receiving benefits under the programs.
On Thursday, Senate Bill 5 was third read and passed. The legislation modifies what's commonly known as the Mack's Creek Law, which states that any city, town or village must send revenues from traffic violations in excess of 30 percent to the Missouri Department of Revenue to then be distributed annually to the schools of the county in which the revenue was generated.
Effective Jan. 1, 2016, the 30 percent threshold would be reduced to 20 percent; another reduction would occur beginning Jan. 1, 2017, when the percentage would further be reduced to 10 percent—fourth class cities and villages stay at 20 percent. The legislation is a response to a number of municipalities in Missouri that have been using over-zealous traffic enforcement practices to generate revenue and pad their budgets.
Also, I'm pleased to say that after several days of discussion, my ethics reform bill, Senate Bill 11, was given final passage by the Senate with a vote of 32-2. Both SB 11 and SB 5 now move to the House for further consideration.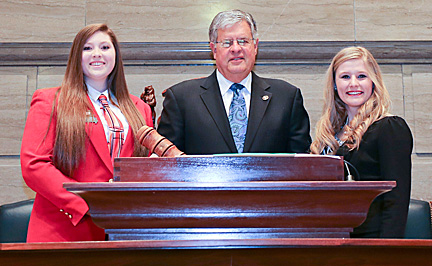 Ashley Roman from Lockwood High School at left and Natasha "Sage" Rowe from Seneca High School at right visit with Sen. Ron Richard in the Senate Chamber on February 11, 2015. They represented the Missouri Family, Career and Community Leaders of America Legislative Shadowing Project.