Gift-giving can be a frustrating experience: What to get that person who has everything. Two books have crossed our desk that solve gift-giving for someone who also enjoys art books.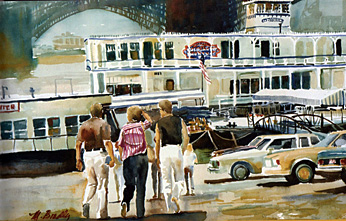 "Days of Gold and Glory" is a water color rendition by Marilynne Bradley of the St. Louis riverfront and the Golden Showboat, now a century-old craft current preservationists have been hard at work raising money to save and move back home.
A person with a fond connection to St. Louis will enjoy the work of water colorist Marilynne Bradley, who, together with writer David Baugher, has recreated Missouri's famous city in a nostalgic style that goes way beyond an effect of simply cataloging a collection of old black and white photographs. The themes may be the same but only the artistic brush of someone like Bradley captures the life force that once was and connects new generations to such a cherished past.
In an introduction Bradley speaks of her fond memories of St. Louis now celebrating its 250th birthday. She reveals:
"It is those memories that have fueled Once Upon a Time in St. Louis, a collection that commemorates in watercolor the once familiar parts of our city that neglect, disaster, economics, or progress have altered or taken from us over time."
The jacketed hard cover book contains a collection of Bradley's paintings of scenes in St. Louis spanning a half century. But equal credit must be given to Baugher for his meticulous research in revealing the cultural heritage that makes St. Louis unique. A detailed bibliography provides resources, many found on the Internet, for further research.
From "Frontier Beginnings" introducing the reader to the smart move by President Thomas Jefferson in negotiating the Louisiana Purchase with St. Louis as its "Gateway,"to the role played y Meriwether Lewis and William Clark who were to connect St. Louis to lands west and spur commerce between the two, the chapters illustrate transportation, with wonderful paintings of river boats, architecture and the influence of French General Marquis de Lafayette, culture and a description of the the Louisiana Purchase Exposition and the eventual growth of Forest Park and finally a compilation of those eating establishments that definitely will cause many readers to say, "I remember when."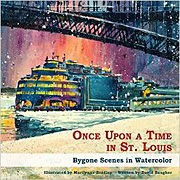 Title: Once Upon a Time in St. Louis
Authors: Marilynne Bradley and David Baugher
Hardcover: 112 pages/$25.96 at Amazon.com
Publisher: Reedy Press; Ill edition (October 1, 2014)
Language: English
ISBN-10: 1935806858
ISBN-13: 978-1935806851
---
Exploring the Ozarks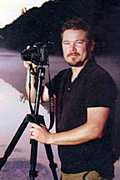 We in the Springfield, Missouri area all know Johnny Morris, the founder of the Bass Pro Shops and more recent developer of Top of the Rock, a 462-acre property overlooking Table Rock Lake. A conservationist, Morris tells of falling in love with the natural beauty of the Ozarks. In a forward to Ozark Landscapes - An Augmented Reality Project he cannot say enough about the book's author Edward Robison III, pictured at right, calling him a "gifted artist and consummate professional."
That Robison's collection of photographs reveals the same deep love of nature cannot be denied. Beginning as a painter of nature, Robison brings a vision to his photography that reflects his early training. He captures stark contrasts between natural elements-- the dramatic effect of boulders and their surroundings, sunlight and shadow as well as the mystery of moving water.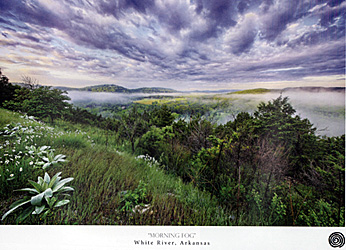 "Morning Fog," a scene at the White River in Arkansas, was captured by photographer Edward C. Robison III. The shot has elements of nature that lend themselves to the dramatic effects created in his Augmented Reality Project.
Robison says he grew up in rural Missouri, 50 miles east of Kansas City, in a home surrounded by a small woodland creek and woods where he spent much of his youth "hunting, fishing and forming a deep bond with nature." Even though he left the area to spend time in Colorado and the West, he says he came back home to what he called the "more intimate and forested landscapes of the Ozarks."
With a degree in photography from the Kansas City Art Institute in 1999, Robison graduated from the use of large-format long exposure photography (using a 4x5 film camera) to the digital process, but he began to postulate as to how these long exposures could be captured digitally-- "how the passage of nature's time would unfold." This led him to learning about cinematography and the time-lapse videos on Vimeo--a video art sharing platform.
"Time lapse photography is the ultimate process for unveiling how nature is in constant motion," Robison writes.
How to capture this moving experience in what he called "the tactile old-world quality of a coffee table book" was something the author decided to solve using a cutting edge technology that creates a digitally enhanced view. Installing Aurasma, an augmented reality app for both android and Apple devices, the reader is able to see Robison's photographs come to life. Instructions for downloading the free app are included in the book. One looks for photographs with a spiral symbol. Using the app and a digital device, placid water becomes a moving thunderous stream or waterfall, a blue heron standing on a rock suddenly flies away or a scene in the woods floats completely off of the page. An exciting world is created for the viewer.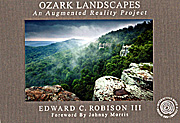 Title: Ozark Landscapes - An Augmented Reality Book
Author: Edward C. Robison III
Hardcover: 96 pages/$39.95 through Amazon at 3rd party retailers and several art galleries in Eureka Springs, Arkansas; Iris at the Basin Park,; Eureka Thyme; Allison Art Company and from Big Cedar Lodge in Ridgedale, MO
Publisher: Sacred Earth Press; 1st edition (2014)
Language: English
ISBN-10: 069226101X
ISBN-13: 978-0692261019