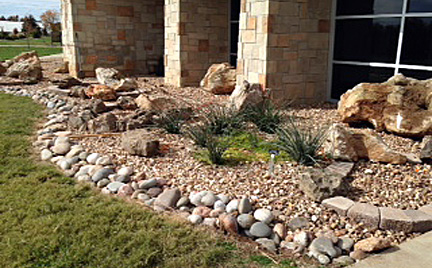 Grading and placement of rocks have been completed for the new succulent garden at the Springfield Botanical Center.
Thanks to volunteers the first step in creating a succulent garden outside of the Springfield Botanical Center in Nathanael Greene/Close Memorial Park has been completed. Rocks and boulders that were provided at no cost with the assistance of the Friends of the Garden are now in place. The rocks were moved from O'Quinn's Water Gardens on Republic Road, after the owner announced the business was closing.
"The Succulent Garden will provide an interesting, informative and horticulturally pleasing addition to the botanical gardens," said Paul C. Robertson, founder of the Succulent Society of the Ozarks (SSOO), in expressing his appreciation to the volunteers.
In order to purchase plants and materials at some point in the future, Robertson is asking for donations. For anyone interested in an "ownership" of the garden and more information about SSOO, a donation only group, contact him by sending an e-mail here.