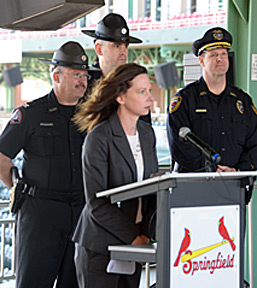 At the podium, Pam Holt, conducts the meeting announcing the launch of the Central Ozarks Regional DWI Task Force. With her (L-R) is Greene County Sheriff Jim Arnott, Greene County Deputy Sheriff/Lieutenant Jeremy Lynn and Springfield Police Department Captain Ben King. (Photo by Vince Rosati)
Following the success of the Joplin Police Department's collaborative DUI unit, 21 agencies spearheaded by the efforts of Greene County Sheriff's Deputy, Lt. Jeremy Lynn have come together to form the Central Ozarks Regional DWI Task Force. The announcement was made at a kickoff event held on March 11, 2014, at Hammons Field in Springfield.
Greene County Sheriff Jim Arnott in describing the new collaboration said that law enforcement involved would "not just work together but train and learn together." The cooperative effort allows not only sharing of equipment but of manpower. And, he noted, checkpoints might be more than just a drinking stop but reveal other illegal activity like meth.
The memo of understanding amongst members, Arnott said, allows any agency to ask for help in setting up sobriety checkpoints--manpower, whatever but jurisdiction still will remain with the arresting officers.
The goal is to deter drinking and driving, said Lt. Dan Bracker with the Missouri Highway Patrol but as to drinking and driving, he said, "drivers are the ones to say no." Bracker called drinking and driving "deadly and costly," adding that one third of fatal crashes involve alcohol. His warning goes hand in hand with national research that shows that people play a significant role in contributing to motor vehicle crashes--about three times more than environmental factors or vehicle malfunction.
With St. Patrick's Day celebrations on tap the Missouri Coalition for Highway Safety is suggesting that those who celebrate with a drink must also choose how they get home – a designated driver, a taxi, a police car, or a hearse. Safe and Sober, a division of the coalition that provides grant money hopes that better road engineering, education and enforcement will keep highway fatalities on a downward trend.
Speaking to those whom the media might reach, Pam Holt, a director on the board of Safe and Sound, who herself is petite in stature, warned that while .08 blood alcohol count is Missouri's criterion for impaired driving, just one drink might be enough to impair a small female. Her advice is simple. "Don't get behind the wheel if drinking or taking drugs." Period.