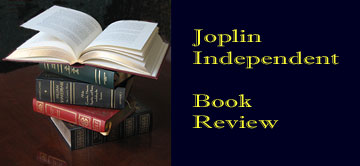 by Mari Winn Taylor
"You know what they say about the Bootheel?" Elsie Arnold asks her police detective friend Bob Ashlock in a scene revealing the possible location of one of the abused victims who escaped rather than testify in Nancy Allen's The Code of the Hills.
Elsie's answer, "They say, if you took the Bootheel of Missouri and gave it to Arkansas, it would raise the IQ of both states," is not going to win fans from both areas but typifies the frustration the author, herself a former assistant prosecutor, had in trying cases including murder and sexual offenses as the first female assistant in the prosecutor's office in Greene County of which Springfield is the county seat and of which the good ole boy network long prevailed.
---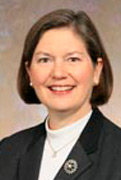 Dr. Nancy Allen, pictured, is a senior instructor in finance and general business at the College of Business - Missouri State University in Springfield, Missouri. She is a faculty advisor for Alpha Kappa Psi, a professional skills fraternity for potential principled business leaders. She received a BSEd in 1978 from Missouri State and in 1980 she received a Juris Doctor from the University of Missouri-Columbia. She is a former Missouri assistant attorney general and assistant Greene County prosecuting attorney. A member of the Greater St. Louis Chapter of Sisters in Crime, Allen has published her first novel.
---
The novel's setting we are told is in "Southwest Missouri"-- the city of "Barton" in a county in Missouri called "McCown" and although Mac County comes to mind when hearing about cases of incest and espousal abuse the reader doesn't know for sure where exactly he or she is playing voyeur. Even references to the city of Springfield--while familiarity may be titillating--don't offer too many clues, except that the reader may know how active special task forces are in apprehending child abusers just south of that city.
Our heroine we are shown after turning a couple of pages is not a straight-laced girl but one who is coping with the after effects of a binge at the local tavern (Baldnobber's) and lamenting how she'll never drink again.. We are reminded several times that she is an assistant prosecutor in her early 30s who has to work under a publicity seeking but less than competent bitch who got her appointment as prosecutor through a connection with the governor's office. She also is in a sexual relationship with a cop named Noah Strong, presented as a controlling Adonis-figure whose role as a man with a gun pushes his behavior to unacceptable limits, something at first she doesn't seem to recognize, then to know how to avoid. She also finds herself seeking refuge at her parent's house when things seem to get beyond her control.
The alcohol and sex is an escape, of course, from the rigors of presenting a case for prosecution, specifically in keeping a father in jail after he is accused of sexually abusing his daughters. The scenario is all too familiar. The kids want to break the cycle of abuse they are in but they want it to happen with the wave of a wand rather than through their testimony. Their mother is cooperative but conflicted, not lily pure in her motives, and not incapable of substituting one abuser for another as she unsuccessfully tries to break the chain of poverty she is in. Add to the mix a public defender who doesn't like to lose cases as heinous as his client may turn out to be and locals who use scary tactics against anyone seeking to break down their "code of the hills."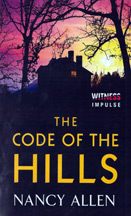 This book, a page-turner, has everyone wondering how Ms. Arnold could possibly win her case against all odds. It also becomes a voyage of discovery that, maybe, she, and the reader as well, could do more to help battered women's causes and their fight for survival.
Look for an electronic publication of the novel April 15, 2014. Witness Impulse is an imprint of HarperCollins Publishers (ISBN: 9780062325945). To reserve the book go here