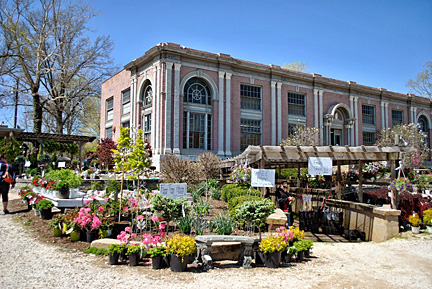 Every spring Stark Bros.Garden Center in the river town of historic Louisiana, Missouri welcomes visitors to their annual customer appreciation days, usually in April. Make a weekend visit and enjoy things to do.
by Jack L. Kennedy
Gnarled old family trees may still produce good fruit.
That is the lesson in 200 Years and Growing: The Story of Stark Bro's Nurseries and Orchards Co. by veteran business writer LeAnn Zotta.
The tightly-written volume with many themes covers two centuries of Stark family dedication to creating business strategies for maintaining and sustaining future growth, all this in the midst of family feuds and marketing/technological change. It is also a history of the nation's growth, particularly of the section of Missouri which old settlers call "Little Dixie."
Future Civil War President Abraham Lincoln was only a boy of 7 when Kentuckian William Watts Stark moved his family to the proximity of what would later become Louisiana, Missouri where he founded a small nursery in 1816, five years before Missouri received statehood.
The Stark family showed a taste for more than business and research. Lloyd Stark became governor in 1936, a job for which the politics of a famed family business seemed to have prepared him well. During World War II, the Starks corporately and personally had a hand in developing and promoting Victory Gardens, the brainchild of President Franklin Roosevelt to help Americans sustain themselves in wartime by growing their own food.
Many consumers and food science/history followers know Stark best, perhaps, for two things: development of two tastier varieties of apples--Red Delicious and Golden Delicious--and the benefits of a longtime association with visionary horticulturalist Luther Burbank. Beginning in 1893, ties to Burbank fostered growth of both income and the number of plant varieties. Stark still was a family business in many ways but its fame had grown internationally. Stark saw the value in marketing its own products by opening its own garden centers and gave research teams more muscle. With expanded marketing came their increased reputation. That the railroad slowly replaced the Mighty Mississippi as a principal mover of products didn't hurt their distribution policies.
Not all Starks in all generations, however, thought their roots were in the national nursery business. Some left it entirely; others served in the military. One unsettled Stark even founded another firm of some fame, Neosho Nurseries of Neosho, Missouri. Some simply had more business sense than others. Union problems came and went. Computers and telephones and other technologies began to make themselves felt. Research into new varieties declined.
But today Stark still stands, having changed ownership after two bankruptcies. The new century brought new growth and marketing strategies and leadership.
Today Stark Bro's Nurseries is the oldest fruit tree nursery in the world. Its story is one of history, determination, change, economic survival and yes, family faith and feuds. So sit down, relax, sink your ivories or literary teeth into a golden delicious or red delicious apple, and digest the book.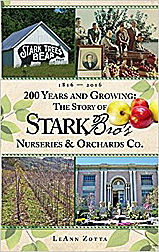 Title: 200 Years and Growing: The Story of Stark Bro's Nurseries & Orchards Co./i
Author/designer:LeAnn Zotta and Walter Logan, contributor
Publisher: Stark Bro's Nurseries & Orchards Co. (January 1, 2016)
Hardcover: 202 pp./19.99 at Amazon
ISBN-10: 0692312919
b>ISBN-13: 978-0692312919
Kindle: 16959 KB/9.99
ASIN: B01A2OAB48