by Jack L. Kennedy

Four words the reader might not readily associate with military subjects perhaps best describe both Hal Moore, A Soldier Once and Always and its young, widely recognized author, Capt. Mike Guardia.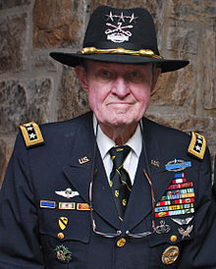 The Casemate volume describes Moore, pictured, a famed soldier whose life became a Mel Gibson film (We Were Soldiers), and consequently reveals the author, his rising, articulate friend Guardia, as "multidimensional," "discerning," "creative" and "caring," a leader of his craft.
Yes, there are moments revolving around death in the trenches, acrid smoke, suffocation of heart, mind and body, questionable strategy and tactics, the human and inhuman sounds of gunfire and dispute and political debates over President Lyndon Johnson's approach to Vietnam. But the thirsty reader who wants to learn more about people, progress, control, fear and hope would be making a big mistake by hastily dismissing "Hal Moore" and author Guardia simply as "war story" figures backed by unrest and uncertainty.
The book is punctuated with photographs of the rise of Moore, characterizing his ideas/ideals in various settings and times. The West Point graduate as World War II was ending in 1945 found himself in the Philippine Islands. The newly-minted officer was one of the first American troops in Korea, then played a major role in Vietnam at the bloody La Drang battle. Moore was also first in his class to be promoted to brigadier general, major general and lieutenant general and be recipient of the Distinguished Service Cross.
There is little ego or bravado as Moore through Guardia's retelling is revealed. He was brave in the face of military fire, yes, but he also exhibited leadership, judgment and use of a variety of talents sharply honed over years of command and crisis. This character development sets Guardia as a rising military historian apart from those writers who see and hear only the ammunition and pain and conflict. Death, loss, politics and thoughts of those he often had to leave at home, of course, also are inescapable concepts as Moore the man is revealed through Guardia's eyes.
One of Moore's final pre-Pentagon and Vietnam reunion assignments came in 1971 as commander of the Army Training Center at Ft.Ord, in California that some sources have called one of the most sought-after spots in the military for either officer or enlisted man. Nestled among tourist/literary spots--Monterey, Carmel, Pacific Grove and Salinas and not far from San Francisco-- Ord held an aura of its own before it was closed. But, as the author reveals, Ord faced battles of its own as the army transitioned from draftees to an all volunteer enlistment, from unpopular wars to peacetime. Drugs, lack of discipline, poor housing and direction at Ord's front door, war protests and other strains forced Moore to use his skills of negotiation, observation, diplomacy and strength of character and creativity. Some battles never end, as today's conflicts of various types reveal.
Read the book to discover who Moore really is beyond the obvious, and to admire an author, now at 30, whose goals and approaches seem to mirror those of his subject. Guardia attempted to describe his own genesis and battles briefly in an e-mail interview. His CV reveals that he has other award-winning military history books in his portfolio, holds bachelor's and master's degrees with an ROTC commission from the University of Houston, and is a captain stationed at Ft. Bliss, Texas.
"I had always loved the military and wanted to be a part of it, to serve my country," Guardia revealed. "It fueled my passion for military history and I love seeing how we can take lessons from previous wars and previous leaders and apply them to our current engagements abroad." Moore, Guardia notes, is in his 90s and "had a great impact on shaping the post-Vietnam Army"-- its structure, air/ground coordination and mobility, working with embattled nations.
The strategies, the nature of the enemy, whether or not real lasting success followed military or personal battles, always can be questioned. Hal Moore, through the focused eyes of author/tank unit commander Mike Guardia has a major impact on how we as a nation and as individuals see things militarily or otherwise.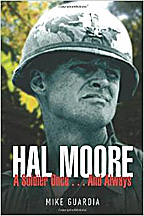 Hal Moore, A Soldier Once and Always
Author: Mike Guardia
Publisher: Casemate (Nov. 11, 2013)
232 pp./48790 KB
Hardcover, $25.96 at Amazon.com/Kindle, $9.99 for purchase
ISBN-10: 1612002072
ISBN-13: 978-1612002071