by Jack L. Kennedy

You cannot judge a judge by his cover.

That is one of the themes of The Judge's Wife is Missing by the late Dale German (Abbott Press, division of Writer's Digest.) It is filled with twists, turns, trials, judicial hijinks, mistrust, deception and jealousy. Much of the carefully-drawn setting is Wichita/Midwest based. The characters are strong and the book moves well as the judge wonders what happened to his wife, who boarded a non=stop plane to meet her mother in Boston, then disappeared. The volume even has an Arctic cold front moving through Wichita, a chillingly current event.

The Judge and the recently retired Wichita cop never did like each other, but hizzhonor needs police help when his wife disappears. Good description, characterization and pacing are enlivened even more by some judicial extramarital affairs, which helps cast doubts on the judge's path and motives.

German mixes several elements of a good story well. It is part hidden scandal, part murder mystery and character study, with police investigative techniques tied to suspense and strange circumstances. Ransom notes and the suspicion of blackmail add to the teasing tension of the tale.

Typos are always frustrating show-stoppers, as when the book misspells the name of a prominent local private university. That printed hurdle, which possibly could be deliberate, should not stop the intrepid detective-reader, however.

German lived most of his life in Wichita. He once worked for the Atomic Energy Commission and for Boeing Aircraft, long a Wichita fixture. He wrote several scientific papers. He died in 1999; German's family saw that his last book was published after his death.

As a former police reporter in Wichita, I can testify that fiction and truth may be difficult to separate at times. Wichita, the "Air Capital of the World" has spawned its share of good guy-bad guy cop stories. However, the late Mr. German seems to have known the city and atmosphere, and how to make a good story out of it. Read on, and watch as the plot thickens.
---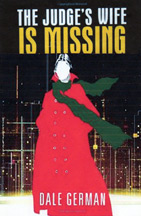 Title - The Judge's Wife Is Missing
Author: Dale German
Publisher: Abbott Press (Sept. 9, 2013)/ pp. 262
$32.39/hard cover; 16.19/paperback at amazon.com
ISBN-10: 1458210782
ISBN-13: 978--1458210784


---
Pseudo-biography written for Dashiell Hammett fans
Macho mystique and a forthright, flashy personal and literary style were famed crime writer Dashiell Hammett's hallmarks. That commanding flavor and drive are reflected in Hammett Unwritten, by Owen Fitzstephen, AKA Gordon McAlpine. (Seventh Street Books).
Setting and tone are just as strong as characters in this tribute to Hammett as the gritty guys and gals were in his books such as The Maltese Falcon and The Thin Man. For several years Hammett was a San Francisco detective, and the novel is on scene from Nob Hill to the Tenderloin, as he honed his background and flavor for writing tough guy tales. He once told the New York Evening Journal in 1934, "All of my characters are real. They are based directly on people I knew or came across."
The opus opens with a slice of the San Francisco Examiner on April 2, 1922, a story about the murder of a sea captain that became known as the "Black Falcon Affair." What follows is a masterful mix of setting/scent, nostalgia, homage to Hammett, more bodies or hurdles, and a sense of the times.
Hammett, who was married to famed playwright Lillian Hellman, wove stories that took the couple from San Francisco to New York in the 1920s and 30s, with topics as diverse as red-hater Sen. Joe McCarthy to a severe case of writer's block. The final pages find Hammett at the end of his life in the 1950s, and Fitzstephen's claim to have uncovered a hitherto unpublished story by the old detective turned mystery writer.
There are many clues to location, writing style, characterization and the march of time, that the reader will go on a twisting adventure-fantasy with Hammett and Fitzstephen-McAlpine. The black/Maltese falcon-shaped statuette is always in the scene in some way. Good readers are asked to become the best detectives.
---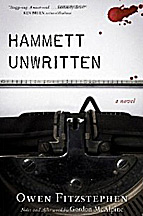 Title - Hammett Unwritten
Author: Owen Fitzstephen
Publisher: Seventh Street Books (Feb. 12, 2013)/ pp. 160
10.45/paperback at amazon.com
ISBN-10: 1616147148
ISBN-13: 978--1616147143


---
Go Back