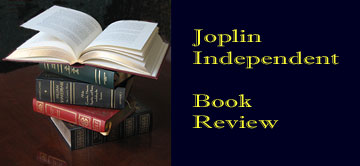 by Jack L. Kennedy
The past always leaves something for the present. We may not realize the value of the legacy until many years have gone by.
Uncle Martin's Family, a Memoir by Joyce Konzem Pertl (iUniverse) is a modest, unpretentious retelling of the many personal, often brutal ways, in which early pioneers in far western Kansas coped with and made life out of the prairie. The author still lives with her husband on a Kansas farm, and Uncle Martin's stories still ring in her ear.
The book is centered around New Almelo in Norton County, Kansas. Its churches, its ups and downs, its charm and is hurdles are seen through the eyes of family members from the Civil War through Martin's Marine service in World War II to the present.
Many folks today and yesterday, rural and urban, can identify with the simple threads woven into a fabric of life as bodies, minds and challenges grow. The tales include a yarn about the early days of radio, sod houses, how to capture food for dinner right outside the farmhouse door, early day Ft. Hays, and what prohibition meant to palate and pocketbook.
Literary style is not the book's strong point. It often seems plodding and pedantic as it moves from tale to tale, farm to farm, generation to generation. It reads at times as if no one looked over the pages for grammar and punctuation gaffes...however, some readers might think this part of its charm and authenticity. Pertl wrote the tale like she would speak it, sitting on the porch rocker.
But the basics of a good story are there, and one can imagine Uncle Martin or whomever the storyteller was or is in the reader's family sitting on the front porch,surrounded by offspring, pride and history as the yarns are spun. The "do it yourself" frontier adaptability is evident. So is the love of the soil, the growth of body and mind and technology, the eagerness to help each other. Making music in the parlor, praying that a pioneer home remedy will work on an illness, surviving Pearl Harbor and war on tiny islands in the Pacific all contribute to the unadorned compulsion of Martin Spiess' stories as his life changed, generations passed to generations, and each felt the others' presence.
The reader may recognize the times, the determination, the affection. "Uncle Martin" is universal.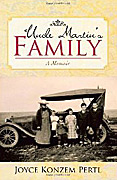 Title - Uncle Martin's Family: A Memoir
Author: Joyce Konzem Pertl
Publisher: iUniverse (Nov. 15, 2012/
$16.76/paperback/230 pp.; 3.99/Kindle at amazon.com/ 1518 KB
ASIN: B00CV8Z6A4
ISBN-10: 147595414X
ISBN-13: 978--1475954142