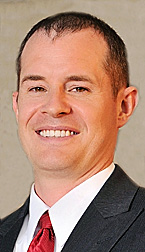 Jay Farr, pictured at right, who was elected to the Nixa City Council from District 1 in April 2015, has submitted his resignation effective December 31, 2015. Far became ineligible to fulfill his term after he and his family relocated outside the Nixa city limits.
Someone will be appointed by the council to fill Farr's vacancy from January 19, 2016, until April 2016 When a special election will be held to choose someone to serve during Farr's remaining two years.
Mayor Brian Steele asks residents living in District 1 interested in the vacancy to submit a letter of interest to Cindy Robbins, city clerk, by January 12, 2016. Anyone wishing to run for the remainder of Farrís term or any other open seats in the April election need to sign up between Dec. 15 and Jan. 19 at Nixa City Hall. Other seats up for election in April include the remaining year of former District 1 Council Member Kyle Vogelís seat that is currently being filled by Andy Ellis, District 2 Council Member Aron Petersonís seat and District 3 Council Member Darlene Grahamís seat, both 3-year terms.
Far will continue to operate Farr Family Chiropractic in Nixa.