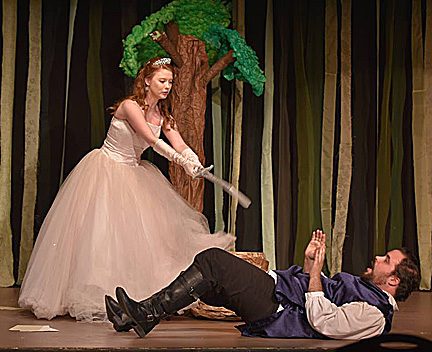 This is a scene from the opening night hilarious performance of The Near-Sighted Knight and the Far-Sighted Dragon performed at the Stone's Throw Dinner Theatre in Carthage on June 23-26, 2016.
Stone's Throw Dinner Theatre announces its upcoming schedule of shows for the 2016-2017 season (subject to changes). Season tickets are now on sale- $105 includes five shows, excluding December. Performances will be held at Stone's Throw Dinner Theatre, 2466 Old 66 Blvd., Carthage.
The schedule includes:
Aug. 5-7 & 12-14, 2016 - I Ought to Be in Pictures is a 1982 American comedy-drama by Neil Simon, that originally starred Walter Mattau and Ann-Margaret on Broadway. It will be directed by Robert Myers,
Sept. 23-25, 30 & Oct, 1-2, 2016 - Death of a Salesman is a play by Arther Miller that won the 1949 Pulitzer Prize for Drama and Tony Award for Best Play. It will be directed by Betsy Fleischaker.
Dec. 1-4 & 8-11, 2016 - Christmas Express dubbed a nostalgic holiday greeting card is by Pat Cook. It is directed by Shannon Wendt.
Jan. 27-29 & Feb. 3-7, 2017 - Angel Street is a Victorian English drama by Patrick Hamilton. It is directed by Dee Hubbard.
Mar. 17-19 & 24-26, 2017 - Those Crazy Ladies in the House on the Corner is by Pat Cook, and as the title suggests, is loaded with wise cracks and one-liners. It is directed by Neal Ruggeberg.
May 5-7 & 12-14, 2017 - Heaven Can Wait is a comedy-fantasy about passengers departing in an airplane to the hereafter. It is by Harry Segall and will be directed by kaitlin Morrill.
June 16-18 & 23-25, 2017 - Proposal by Design is by Robert Denning and directed by himself.
For dinner shows Friday-Saturday doors open at 6 p.m., dinner is at 6:30 p.m. and show begins at 7:30 p.m. For Sunday performances doors open at 12:30 p.m., dinner is at 1 p.m. and show begins at 2 p.m.
Season tickets for five shows (excludes musical and Christmas shows) is $105 per person. As of July 1, 2015, new admission pricing is $26 for adults, $23 for seniors, $22 for students with ID, $21 for youth (6-18) and free for children 5 and younger. On opening night vets' tickets are $18 each and groups of 20 or more are charged $22 per person. (Taxes are included in ticket prices.) Reservations may be made by calling the theatre at (417) 358-9665 or send an e-mail here.
Wine and beer service now available
Theatre patrons (with ID) are able to purchase tokens (two per person) at the box office for wine and beer service during dinner. Four varieties of wine are available.
Volunteers are needed
Stones Throw Dinner Theatre has a minimum number of paid employees. Volunteers are urgently needed to help set the dinner tables and wash the tablecloths for each performance. Help also is needed with cleaning the theatre and with maintenance of the yard. Other volunteers help with set building, costuming, props, lighting and sound production and backstage organization. If interested phone (417) 358-9665.
Capital campaign
A capital campaign was kicked off in 2015 and has raised about $40,000 toward theatre improvements. Those considered important are expanding the lobby and the kitchen, repaving and increasing the size of the parking lot and moving the office to a relocated storage building. Matching funds are needed for the grant from the KD & ML Steadley Trust in the amount of $85,000. Ask about all levels of contribution from executive producer ($1,000 and higher) to volunteer ($50).
Consider advertising in the playbill or sponsoring a show
Theatre's history
From Mrs. Harry Spradling's initial formation of the 1928 Carthage Music Club performing musical shows in schools, churches and other locations, in the 1970s the scope of the entertainment was broadened to include theatrical productions as part of the Missouri Federation of Music Clubs. This newly formed Carthage Music and Theatre Club on September 11, 1984 was incorporated as the Community Theatre for Southwest Missouri Inc., otherwise known as the Stone's Throw Dinner Theatre. Four years later Dr. Foster and Hilda Whitten donated the land on which the current theatre stands and money was raised towards construction of a theatre building.