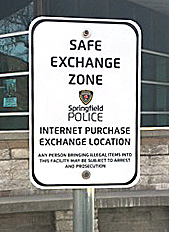 Have you hesitated selling an item locally on Craigslist or any other Internet website where you might have to meet a buyer in person? The Springfield Police Department may have a way to do that without sacrificing the location of your home. Of course, the item you are selling would have to be transportable by you.

The Springfield Police Department has designated a parking spot at its headquarters at 321 E. Chestnut Expressway. While a presumably secure location for Springfield residents to complete transactions initiated online, it still requires people to use common sense when making transactions with strangers, according to Police Chief Paul Williams.

"While we can't guarantee that offering this area will eliminate criminal activity that may take place during transactions, we feel it is a much safer alternative than meeting at a random spot or at one's residence," Williams said.

The parking lot of police headquarters may be used by the public anytime, and the lobby is open to the public from 7 a.m.-11 p.m. seven days a week. Citizens are encouraged to use the area closest to the building entrance during daytime hours, if possible.

If citizens cannot meet at police headquarters, they are encouraged to meet in daylight in a public place. They should also try to bring a friend or family member along, or let someone know what they are doing, and when and where they will be when making the transaction.

If in spite of care taken you become the victim of a crime, call 911 or notify the Springfield Police Department by phoning (417) 864-1810.