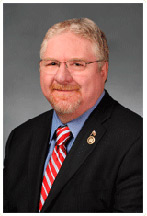 Commentary by Missouri State Senator Jay Wasson (R-20/Nixa)
In the last few days, I have heard from many of my constituents who are concerned that terrorists may be using immigration as a cover to infiltrate and kill citizens in host cities. Earlier this week, I joined with 22 other state senators urging the governor to suspend the acceptance of Syrian refugees relocating in Missouri until we can be assured by the federal government and they can prove that screenings are safe and thorough. Unfortunately, he has refused to issue an executive order to cease cooperation with any federal effort to relocate refugees in the Show-Me State.
As a state senator, my first and most important job is to protect the citizens of Missouri. However, as state legislators, we are limited in what we can do regarding immigration laws. When it comes to immigration, the federal government has broad power. Their power is so extensive, they "occupy the field" governing immigration. This term signals that individual states are limited in their jurisdiction to the few areas that are not specifically controlled by federal law.
But, we can call on Congress to quickly suspend the president's plan for mass immigration of Syrian refugees to the United States. We can also call on Congress to demand a "no fly" safe haven in the Middle East to help safely relocate refugees near their own home countries.
We can also urge our attorney general to pursue all legal options available in the state of Missouri to keep the federal government from moving forward on their plan in spite of the requirement of coordination under the Federal Refugee Act of 1980.
One exception I would consider would be to allow minor orphaned children under the age of 12 into the state.
As we move forward, as lawmakers, we need to look at the big picture and understand the process all refugees go through when entering our country. Since the federal government's current failed policy puts the burden for the refugee crisis on individual states, we need to know how the process of vetting and screening works. We need to understand what our responsibility as a state is, financially and morally, to help future refugees.
My colleagues and I will continue to address these questions, and we will discuss these ideas in the upcoming days. While I am compassionate to the victims of the Syrian Civil War, I still have a foremost duty to keep our citizens safe.