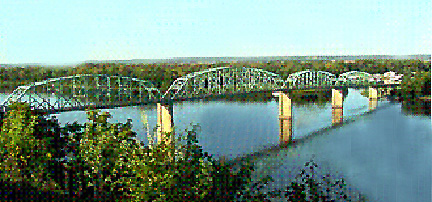 WASHINGTON, DC –U.S. Senator Roy Blunt (Mo.) today announced that the U.S. Department of Transportation has awarded a $10 million Transportation Investment Generating Economic Recovery Grant to replace the Champ Clark Bridge connecting Louisiana, Missouri with the state of Illinois (see photo).
In 2012 work was done on the bridge by the Missouri Department of Transportation with the comment that "no more anticipated closures" would be ordered. However, according to Lissie Youse, MoDot communications specialist, in September 2015 preliminary results of a Champ Clark Bridge inspection showed that the 89-year-old historic structure that spans the Mississippi River had rivets that needed replacement and hundreds of gusset plates--thick sheets of steel used to held the components of the truss of the bridge together--were in various stages of deterioration.
"Maintaining the strength and safety of our transportation network is critical to expanding economic growth and creating new jobs in Missouri and across the nation," Blunt said. "I'm pleased the Champ Clark Bridge will receive the funding it needs to continue facilitating economic activity across state lines, and I will continue working to secure the resources necessary to improve Missouri's 6,500 bridges in need of critical repair."
The Champ Clark Bridge allows for the movement of 4,000 vehicles per day. Persistent flooding and maintenance issues have forced repeated closures of the bridge, resulting in a 77-mile detour for motorists crossing the river at Hannibal.
Senator Blunt is a co-sponsor of the Support for Bridges Act, which will expand the resources available to state and local leaders to improve our bridge system nationwide. Blunt successfully included an amendment in Senate-passed six year highway bill that establishes a dedicated revenue stream for bridges that are not on federal-aid highways or the national highway system, restoring the set aside he championed in the Moving Ahead for Progress in the 21st Century Act (P.L. 112-141). County-owned bridges make up 52% of Missouri's bridges, and 30% of them are structurally deficient or obsolete.