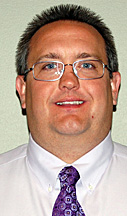 Nixa District 1 Council member Kyle Vogel, pictured, submitted his resignation effective June 15, 2015. Vogel served as councilman from 2009-2011, and from April 2014 until the present.
"Nixa is a fantastic community, and I've been so lucky to serve its residents not one, but two times on Council," Vogel said. "I'm proud to have called this community home for nine years."
After Vogel's announcement at the May 6 council meeting, Mayor Brian Steele announced that the council would appoint someone to fill the vacancy until April 2016. Steele is encouraging residents to submit a letter of interest to City Clerk Cindy Robbins by June 1, 2015. She will then verify eligibility. An election in April 2016 will determine who serves out Vogel's term ending in April 2017.
Vogel and his family are moving back to Iowa City, Iowa.