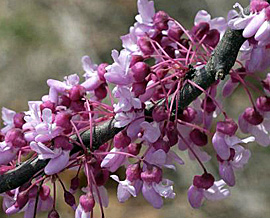 This is a section of the branch of an Eastern Redbud tree (Cercis canadensis). Distributed widely in Missouri and attractive when planted against the backdrop of evergreens, it is a suggested substitute for the non-native but overly popular Bradford Pear tree.
The Bradford pear tree, native to China and Taiwan, is now considered an invasive species in Missouri, according to a report by the Master Gardens of Greene County. It is mating with other cultivars and spreading.
Adaptable to a wide range of growing conditions and easily accessible in big box garden centers, the tree has become a popular choice in local landscaping. But although it grows quickly it dies young, frequently breaking in strong winds or after ice storms. But the tree is very resistant. When planted close together, as is often seen in commercial landscaping, the trees can cross-pollinate and produce fruits or can produce seeds from sprouts from felled trees that are spread by birds.
When they become invasive, the Bradfords can crowd and shade out native plants that local animals depend on. These wild forms, according to the Master Gardeners, often develop characteristics of the original Chinese trees, including stout thorns that make them difficult to remove from the landscape.
The Master Gardeners recommend planting a variety of these small trees native to Missouri: serviceberry, yellowwood, redbud and hornbeam. These are trees that they do not recommend:
Why go native?
The website "Plant Native" offers a thorough explanation for the concept of planting native or "naturescaping." While owners in upscale neighborhoods foster the concept of landscaping that includes large well manicured lawns and expensive nursery stock, those with more of an interest in environmental issues devote at least a portion of their properties to plantings designed for wildlife preservation.
For more interest about the Missouri Native Plant Society go here. The Southwest Chapter of the Missouri Native Plant Society is based in Springfield. It meets the fourth Tuesday of each month except November-January at the Springfield Botanical Center, 2400 S. Scenic, Springfield. For more information about the chapter contact Michelle Bowe by e-mail here or by phone at (417) 836-6189.
---
...native plants "give us a sense of where we are in this great land of ours" -- Lady Bird Johnson, the wife of President Lyndon B. Johnson
---