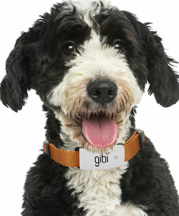 This dog is protected, according to an announcement by the makers of Gibi, a GPS tracker they say is wearable in wet conditions as well as dry, although some criticism has surfaced regarding its reliability. The device that is 3x8x6 inches and weighs eight ounces and slips on any collar was invented by two sisters, Synette Tom, a satellite telecommunications engineer and Sheree Loui, a medical service dog raiser and trainer, who wanted to help pets return home before they were picked up by animal control, pet-napped or hit by a vehicle.
With an online browser-based app accessible from anywhere an Internet connection is available, pet owners supposedly know what their pets are up to. According to the the product description, it has the capability of setting "safe zones" or virtual fences around the home, doggy park or wherever, sending an alert if the pets leave the perimeter. Gibi is meant to send notification to the owner's cellphone, e-mail or app. With the press of a button the pet's location may be found. To preserve battery power the device has an all new sleep mode and a low battery alert, so this upstart company is open for suggestions for improvement.
Gibi may be purchased at Walmart or Amazon.com. The listed price is $129.99. According to Amazon, the device requires Gibi pet location service agreement and registration. The fee of $9.95 per month or $99 a year may be reduced by signing up for a longer contract. Should any glitches be discovered, we found that the purchase price was refunded without hesitation.
Other non-GPS options that exist include a Marco Polo Pet Monitoring Tracking and Location System. A bit pricier than Gibi, it does not require a monthly service contract.