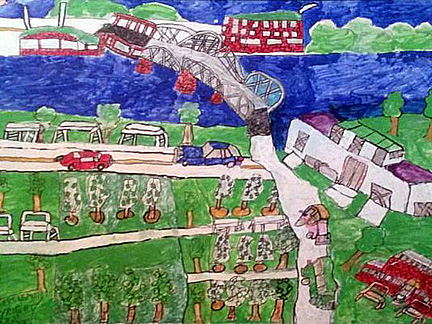 Facilitated by the Springfield Art Museum, a painting by the late artist Robert E. Smith has been donated to the Clinton Presidential Center in Little Rock, Arkansas. The work depicts the outside of the center in Smith's folksy style. (Photo compliments of the Springfield Art Museum)
Local arts patron and museum docent William Brandon Bowman was anxious to have a painting from the estate of a close friend kept in a public place. When local folk artist Robert E. Smith passed away in 2010 Bowman was given the artwork that he had played a role in its creation. According to Bowman, he had driven Smith to Little Rock where the artist sketched the outside of the Clinton Presidential Center where he was hoping to meet the former President.
Unsuccessful attempts were made by Bowman, he said, to donate the painting in 2007 to the center, fulfilling the late artist's dream...util now. With the assistance of the Springfield Art Museum's curator, Sarah Buhr, the center's curator was contacted who accepted the donation.
It was always Robert's child-like fantasy to think that President Clinton was going to come out of the library with arms extended to receive Robert and his painting. Sadly, that fantasy never happened during Robert's lifetime. I am just proud that with Sarah Buhr's help as curator of the Springfield Art Museum, the painting now becomes part of the permanent collection of the Clinton Library where Robert always intended it to be," Bowman said.
Smith had been a popular local artist. Although not formally trained, he painted scenes of life in Springfield that he often narrated on audio tape. His work is in the permanent collection of the Springfield Art Museum.
"When we heard the backstory of this painting, I just knew that we could help fulfill Robert E.'s wishes. Fortunately, because of the subject matter and the unique acclaim of the artist, it was truly a perfect fit for the Clinton Library's collection as well. I was happy to help facilitate the donation and am truly happy to get the painting to its most perfect home," Buhr said.