The project, converting Route 60 to a freeway between Greene County Farm Road 241 west of Rogersville and Chicory Road east of Rogersville, has been awarded to Ozarks Regional Road Constructor (ORRC), according to an announcement by the Missouri Depart of Transportation Southwest District. ORRC is a joint venture of these six engineering and construction companies: Radmacher Brothers Excavating Company Inc o Pleasant Hill, Missouri; Reynolds, Smith & Hills, Inc. of Jacksonville, Florida; CFS Engineers of Kansas City, Missouri with Palmerton & Parrish, Inc. of Springfield; Trekk Design Group, LCC and HG Consult, Inc., both of Kansas City, Missouri. Construction is scheduled to begin in the fall 2014 and be completed by December 2016.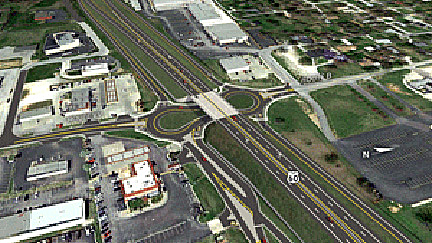 Interchange design at Route B/VV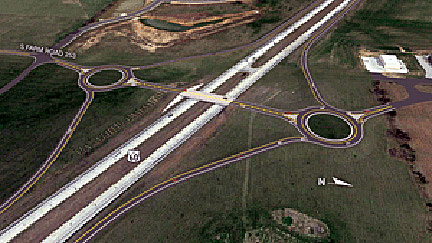 Interchange design at Farm Road 253
Some of the highlights of ORRC's proposal include:
Build two-way backage roads with one-way outer road
Widen Farm Road 253 between Route 60 and Center Street
Build an interchange at Route 60 and Farm Road 253
Build an interchange at Route 60 and Routes B/VV
Reconfigure intersection of Route VV and Redbud Street
Improve the intersection of Route VV and Johnstown Drive
Add turn lanes on Route 60 at Chicory Road and at Peck Hollow Road
$35 million has been allocated for the project. The public is encouraged to provide comments on the project to the Southwest District office. Phone (888) 275-6636.