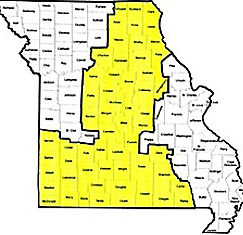 GREATER MISSOURI CHAPTER SERVICE AREA
Caregivers of patients with Alzheimer's disease and other related dementia may be eligible for respite funds. The Greater Missouri Chapter of the Alzheimer's Association has announced that $500 per caregiver will be offered. The funds will be available on a first come, first served basis through April 14, 2014 or when all the funds are spent.
"This is a wonderful program made possible by our state legislators," said Janie Elson, communications coordinator for the Columbia, Missouri headquartered chapter.
Earlier this year, the Missouri legislature appropriated funds to the Missouri Department of Health and Senior Services (DHSS) for the Alzheimer's Service Project. Following a competitive grant process, DHSS awarded the contract for the caregiver respite reimbursement program to the three Alzheimer's Association chapters located in Missouri – Heart of America (Kansas City), Greater Missouri (Springfield/Columbia) and St. Louis. Each chapter will administer the grants within their chapter territories.
Funds may be used to hire a substitute in-home care provider to allow the family caregiver personal time away for himself or herself. That time may be spent shopping, playing cards with friends, attending to one's own healthcare needs, enjoying time alone or whatever best serves the caregiver. Funds may also be used to pay for dementia-specific medications and/or safety products.
To determine eligibility phone (417) 886-2199.
Support is available
"We salute the thousands of caregivers who sacrifice everyday to make life a little easier for those living with Alzheimer's and other related dementia," Elson said. To minimize stress during the upcoming holidays, she encourages caregivers to keep a regular routine and try to maintain a positive attitude. "Remember, we are just a phone call away," Elson added. For their support and encouragement phone (800) 272-3900 (available 24/7).