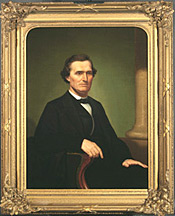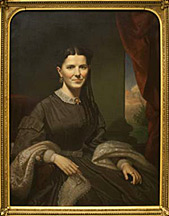 The Springfield Art Museum is hoping to raise another $15,000 in order to reunite husband and wife portraits of early residents Lewis Allen Dickens (L.A.D.) Crenshaw and Fanny Crenshaw that were painted by artist George Caleb Bingham. While the museum has owned the portrait of Fanny through a contribution in 1990 by her daughter, Clara Crenshaw Early, L.A.D. is only currently on loan for the "Creating an American Identity" exhibition from the Crenshaw Family through Rachael Cozad Fine Art of Kansas City. The full asking price for L.A.D.'s portrait is $45,000.
"These are significant paintings for so many reasons," says Sarah Buhr, Springfield Art Museum curator of art. "They are historically significant as portraits of Springfield's first settlers and early city leaders; artistically as examples of George Caleb Bingham's late works, and also for the museum as we complete a pendant pair – husband and wife portraits. We hope this installation will give the Crenshaws time to 'catch up' from their century-long separation."
L.A.D. was a prominent businessman, founder of the wholesale Crenshaw Hardware Co. on South Avenue, Springfield and one of the principal developers of the Springfield and Western Missouri Railroad ("The Gulf Line"). One of the earliest settlers of Springfield, he was a major Greene County landowner dealing in mules and cattle. He moved to the area from Nashville in 1841. Also from Nashville, Fanny, an aficionado of the arts, moved to Springfield in 1855 and married L.A.D. in 1867. She was his second wife; his first wife Mary Louisa Crenshaw, a cousin, had passed away.
CauseMomentum.org, a crowd funding platform developed by the Community Foundation of the Ozarks, is being used to reach the goal of raising the balance needed to purchase the L.A.D. portrait, hopefully within 45 days. All contributions are tax deductible.
The crowdfunding model seemed perfect for this acquisition," Museum Director Nick Nelson said. "The museum's art collection is the community's art collection. We hope that this campaign will not only provide funding to get the painting, but will provide everyone participating with a sense of ownership of the Museum's collection We hope the museum's art collection can serve as a point of civic pride."
Those interested in making a donation, anywhere from $1 to whatever their generosity dictates, should go here.
Admission to the Springfield Art Museum, located at 1111 E. Brookside Dr., is free. For more information, call (417) 837-5700. Hours are 9 a.m.-5 p.m., Tuesdays and Wednesdays; 9 a.m.-8 p.m., Thursdays; 9 a.m.-5 p.m., Fridays and Saturdays; and 1-5 p.m., Sundays. The museum is closed on Mondays and on national holidays.