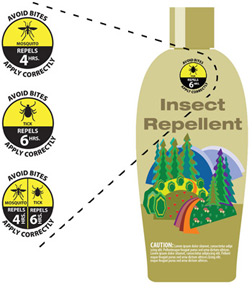 The U.S. Environmental Protection Agency is encouraging makers of insect repellents that are applied directly to the skin to participate in a new labeling graphic. The graphic would show what types of insects are repelled as well as the length of time the product works, assuming the product is applied correctly. Participation in the labeling, however, is voluntary.
EPA is working to create a system that does for bug repellents what SPF labeling did for sunscreens," said Jim Jones, assistant administrator of the Office of Chemical Safety and Pollution Prevention. "By providing vital health information to consumers, this new graphic will help parents, hikers and the general public better protect themselves from serious health problems caused by mosquito and tick bites."
Current labeling of skin-applied insect repellent products does not allow consumers to easily identify the insects repelled by a product and the amount of time the product remains effective. Over the past four years, EPA has held focus groups and worked with manufacturers and others to create the new graphic, which will display consumer information in a more prominent and standardized format.
"Effective insect repellents can protect against serious mosquito and tick-borne diseases," said Cathy Milbourn, spokesperson for the EPA. "In the United States, mosquitoes can transmit diseases like St. Louis encephalitis and West Nile virus. Ticks can transmit serious diseases like Lyme disease, Rocky Mountain spotted fever, and Ehrlichiosis. Using the right insect repellent and taking other preventive actions can discourage bites from ticks, mosquitoes, and other biting insects."


Companies will be able to request approval to use this graphic through the Pesticide Registration Improvement Act (PRIA) registration process.