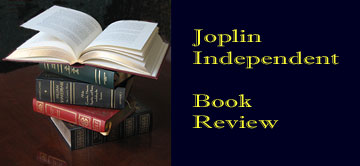 by Susan Branch
Spycraft and insider medical knowledge combine to give the reader of this thriller something special. In the book Osprey (EXLIBRIS, 2012) Peter Williamson has dedicated his life to working for American intelligence. Now his main priority is the safety of President Preston, who seems, both in personality and in time period, to mirror the late President Reagan.
Preston's foreign policy initiatives have moved the world slowly but surely away from the fading Russian bloc, and he is the Soviet Union's target number one on this account. But the Russians know that any overt attempt on the president's life will bring about a backlash that will sap their influence all over the world, and possibly bring US military sanctions.
Peter lives for his work, and the stresses of that work are taking a toll on him. With his children all but grown, and his wife tragically dead of cancer, his good friend John Andrews, doctor to the president, is one of the few people with whom he can relax.
Andrews and his wife want Peter to meet their good friend, Washington lawyer Samantha Robinson, who may fill the loneliness in his life. Beautiful, intelligent, successful she seems literally what the doctor ordered. No one knows that this woman has a little sideline--not dangerous, surely, and not wrong, she's convinced herself, but very lucrative indeed.
Meanwhile, in Moscow, Russian spy chief Sudenov is working on his greatest coup--code named Osprey--which involves an English-speaking Soviet citizen who looks a lot like the doctor. Very few people, even in the Soviet hierarchy, know about Osprey. Sudenov, however, is being forced to play a double game. Under pressure from ambitious subordinates, the ruthless chief of a competing agency, and a paranoid elderly leader, he knows that Osprey must be successful, or he and his family are doomed. In many ways, Sudenov is a reasonable man, who loves his wife and his two teenaged children. He knows that a man must defend his family, even if it means other people--regrettably, including his friends--will die.
The suspense builds as the Russian attempt to insinuate Dr. Andrews' double onto the presidential plane is put into play. Will Peter be able to rescue his friend, and capture the would-be assassin?
If Peter has a few more cards in his deck to play, so do the Russians, including a mole who is very close to Peter himself. Sudenov has plans for his family that will enable him to reveal the truth to Peter, if he is willing to believe it. Tension ratchets up as Sudenov tries to implement his scheme to protect his family, let the collateral damage be what it will. It may be distasteful to some readers, but collateral damage on all sides is rather high in this story.
Healey, a retired physician, is not a literary stylist, but he keeps the suspense turned up, the action fast-moving, and the pages turning in this his first novel.
---

Title - Osprey
Author: William V. Healey, MD
Publisher: XLIBRIS (Oct. 5, 2012)/ pp. 248/449 KB
$26.99/hard copy,$15.67/paperback, $3.99/Kindle at amazon.com
ISBN-10: 147971884X
ISBN-13: 978--1479718849
ASIN B009ND3AKC

---