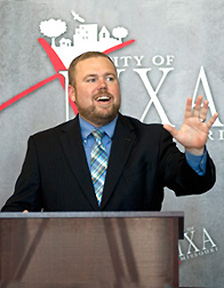 Nixa Municiapal Court Judge Joel Harris takes the podium to speak at a Community Alternative Sentencing Court kickoff.
A ceremony took place at Nixa City Hall on June 10, 2016, to launch the new Nixa Municipal Community Alternative Sentencing Court (CASC). The object of the court is to shift a focus from punishment to accountability and outcomes. Assigning a 6-month to a year program for offenders focuses in part on resolving mental health issues leading to the eventual waving of fines.
Judge Joel Harris, pictured above, explained how he had been introduced to Springfield's Homeless Court established in Greene County in early 2015 to help homeless defendants resolve outstanding nonviolent misdemeanor offenses as well as help them get out of poverty. The Springfield court program had been modeled after the first homeless court program in the nation that was created in 1989 in San Diego, California.
Expanding a definition of who are the "homeless," Harris said it must include people who sleep in a car or on a couch, those with mental health problems and those addicted to alcohol/drugs coupled with those living in poverty. How to identify these people for appropriate treatment, he believes, should be the challenge of several community organizations working together with law enforcement.
"Jail time or fines is not the best reaction to [people with] DWI or alcoholism offenses," Harris said. "Give them a hand up instead of a $500 fine...in order to make them better citizens."
Harris is expanding the role of the court to include breaking down barriers between it and the perpetrators. To achieve this might involve sitting down together and having dinner, he said.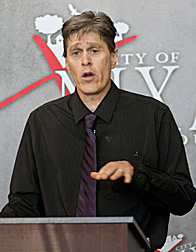 Laurence Williams explains how the Greene County CASC program helped him get his life together.
A beneficiary of the CASC program in Greene County, Laurence Williams, pictured at right, said he "never thought he'd be a felon." His convictions for six DWIs hadn't addressed the core issues or underlying factors for his behavior.
"I did not realize how devastated my life was," Williams admitted, until he was offered alternative opportunities for getting at the root of his addiction. The artist of 30-years said that his involvement with Alcoholics Anonymous and the church were significant in his healing process. He referred to "tough love" as the process that led to his taking responsibility for his actions.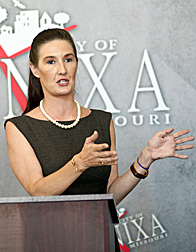 Loni Brewer, pictured, served as community liaison between Springfield and Nixa. She currently is involved with behavior intervention at the Midwest Foster Care and Adoption Association.
Loni Brewer, pictured at left, a former graduate of Missouri State University (B.A. sociology, 2006) and with more than a decade of advocating for at risk and homeless teens, said that "it takes a community to make a change." She described a project of Missouri State's Citizenship and Service-Learning program that now has two case workers. Help, she believes, should come before anyone reaches hard times.
Multiple charities, impact panels and physical health service providers are part of a successful CASC program and Nixa's is no exception. Besides those from Missouri State, representatives of this group includes Burrell Behavioral health, Least of These, Preferred Health and the Nixa Ministerial Alliance.
Speaking on behalf of the Nixa Police Department 16-year veteran Officer Johnny Williams was in agreement that underlying factors leading to crime need to be addressed. He called it a "step further than traditional crime prevention." Council member Andrea Long (District III), representing the city of Nixa, called attention to the need to give people hope. "To give a man hope is everything," she said.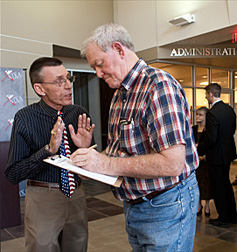 Jon Ross, is pictured signing a volunteer form presented to him by Michael Davis. Volunteering, Ross said, was his way of getting a better understanding of how the CASC program worked.
Those not present who would like to volunteer are asked to contact Judge Harris' office by phoning (417) 724-8003. Areas needing support include child care, transportation, providing employment opportunities and support-in-kind, contributing food or money.
Photos by Vince Rosati