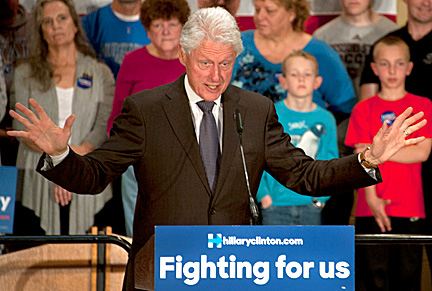 by Mari Winn Taylor
Hello, Mr. President. A crowd, including members of the Greene County Democrats, overflowed the rather modest meeting room of the Teamster's Local No. 245 on East Division Street in Springfield yesterday. Former President Bill Clinton, stumping for his wife Hillary, was over an hour and a half late and people were beginning to feel the results of the cramped quarters that helped create the packed house effect.
"We need a kinder nation," were Mr.Clinton's opening remarks, as he outlined his wife's intent to make changes without blaming someone--especially President Obama. However, he reiterated what Hillary's opponent Bernie Sanders had been stressing, that the Republican Party majority in Congress needed to be voted out in order for any changes to occur.
The audience applauded after hearing, "We need to rise again." Audiences tend to acknowledge the more spiritual remarks than those with substance although Mr. Clinton should be given credit for outlining Hillary's plan for creating job growth, one of the greatest areas of anxiety faced by voters. He tied it in with expanding the use of solar energy and rebuilding the country's crumbling infrastructure. Bringing jobs back to America, he suggested, meant fighting the "transportation big cats" who benefit from exported production.
In expanding the workforce, Mr. Clinton said that the expansion of small businesses should be encouraged by making smaller loans less expensive and easier to get. Companies that encourage employee profit sharing should get a 15% tax credit, discouraging the current focus on stockholder profitability.
Think of all the jobs created if we tore up all the rusty pipes and create new ones, Mr. Clinton said, with Flint, Michigan's contaminated water problem in mind. Hillary believes, (although it seemed at times that Bill spoke as if he were the actual candidate) that a lot of money has to be allocated for a rebuilding effort, not just remediation. Other areas that Hillary wants to expand are transition programs for the incarcerated returning to society, encouraging more opportunities for people with disabilities to enter the workforce and equal pay for all genders.
Mr. Clinton said a shift in job opportunities should be recognized. He admitted that productivity keeps demanding fewer workers but learning the need for 7500 welders he cited the need for good training programs to go along with it. Referring to the unemployment of workers in coal mining areas where jobs dried up with the expansion of cleaner energy, he said "nobody gave them something else to do."
The theme of Americans helping Americans rose up again after Mr. Clinton said that "rural America is in bad shape," that heroin addiction has grown in these areas of depression. The audience applauded after he mentioned that Hillary had the first plan to deal with a mental health issue that put children at the greatest risk. The theme that somebody (Hillary) actually gets something done was expanded when he spoke about the changes she made for African Americans in the South.
On the subject of health care for which President Obama was given credit for getting 90% insured, the audience was told that Hillary's goal was to reach 100%. Republicans on the state level were blamed for thwarting that effort. However, they couldn't be blamed for the high cost of drugs and co-pays for insurance. On this, Hillary supports a flat rate system to keep people healthy such as the one promoted by Mayo Clinic. While not discouraging a federally run single payer system the high cost of one promoted by the governor of Vermont was cited. "We need to work on this," Mr. Clinton said.
Debt-free education that serves a lot of lower income people should be free for those who need it, not free for everybody was how Hillary differs from her opponent's message. She wants to see incentives to keep educational costs down like students agreeing to 10 hours of work study and the conversion of education debt to a 20-year mortgage that would be tied to one's income.
The final minutes of Mr. Clinton's talk dealt with a range of topics and included an apology for Hillary's voting for the bailout of banks and support for Boeing in order to compete with France's Airbus, both with the intent of saving jobs. He reiterated Hillary's concern for children including solving problems with foster care programs. And he spoke of how she worked with Newt Gingrich (an illustration of bi-partisan support) in modernizing a military treaty with Russia to stop accidental nuclear warfare. He wanted to make sure that he got the point across that "she's always doing something."
These photos were taken at the event. Click on any thumbnail to start a slideshow (Photos by Mari Winn and Vince Rosati).