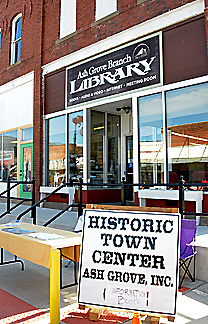 Signs containing an arrow and the words "Nathan Boone Homestead" were encouragements to continue driving north on Route 160 out of Springfield to visit the site as part of "living history" day. What the visitor had to know in advance was that the town of Ash Grove was also celebrating an event on October 17, 2015, its annual Back Roads to Main Street Heritage Festival.
The welcome page of the city of Ash Grove touts itself as the "epitome of small town living." A slideshow contains an overwhelming number of smiling white faces suggesting the make-up of their less than 1472 residents, according to the 2010 census.
However, one person in particular wants to make sure that the visitor is made aware of the city's African American component.
Father Moses Berry could be found inside a storefront that once housed a complete collection of his family's history. Pastor of the Theotokos "Unexpected Joy" Orthodox Church, Father Moses, considered one of only a handful of African American orthodox Christian priests in North America, makes himself available because he wants personlly to present, the history of the black American experience in the area.
"Be careful about opening up a museum in that little town. White folks aren't going to like it" were warnings Father Moses first received when museum doors officially were opened next to the library on 103 E. Main St. But hundreds of visitors, both black and white visited before the museum closed in 2013. Displaying artifacts from his family's collection, Father Berry's message is not meant to cause resentment on either side, just understanding. In the past when Father Berry brought out a metal collar and chain worn by slaves, he made an indelible impression on anyone white who tried it on, but while he wanted young black people to know that their ancestors struggled and made great sacrifices, he also didn't want these ancestors to be considered mere victims.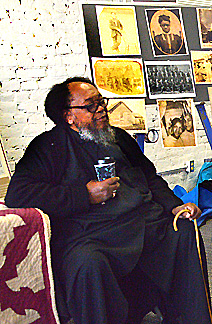 Festival viewers could only see a few outfits from the collection of Father Moses, pictured, and a small number of portraits. Ironically, there's a connection between this man who in 1998 resettled with his wife on the 40-acre farm left to him by an uncle and Daniel Boone and his youngest son Nathan, who were both slaveholders. Caroline Berry (nee Boone) was the daughter of Nathan Boone and his slave, Maria. Caroline is thus the granddaughter of Daniel Boone and the great grandmother of Moses Berry. (And there always has to be a Jesse James connection. It seems that Mary Boone Hosman was the daughter of Nathan Boone and the great grandmother of Stella Frances McGowan. Stella married Jesse James Jr. in Kansas City while he was running a cigar stand in the lobby of the Jackson County Courthouse.)
While slavery was introduced to Missouri in 1720 by Phillippe Francois Renault for forced labor in the lead mines, it wasn't limited to only that type of work. Father Moses more than once has suggested that "fairmindedness" in the treatment of slaves was limited. But he also believes that blacks were more than just slaves. We helped build a nation, he said.
No one should forget what happened on Good Friday in 1906 when three blacks were lynched and burned in the Springfield square after being falsely accused of rape by a white woman. She reversed her allegation but not before thousands of blacks left Greene County shrinking the population from 25 percent to 2 percent. The Berrys decided not to leave, opting for a sense of stability.
What also shrinked the black population was the closing of the Ash Grove Lime and Portland Cement Company where many blacks had been employed. (Interestingly, the national company still carries the name "Ash Grove Cement" with headquarters in Overland Park, Kansas.)
More about Ash Grove
No story involving Ash Grove would be complete without mentioning that "Ma" Barker (nee Arizona Clark, AKA Arrie or Kate) was born there in 1873. She married George E. Barker in 1892 in Lawerence County and they had four sons, Herman, LLoyd, Arthur called "Doc" and Fred. When the family, minus George, moved to Tulsa in 1915, Ma Barker and her sons became earnestly associated with criminal activities. According to some historians, it was J. Edgar Hoover who created the criminal legend associated with Ma Barker after she was killed with her son Fred during a long shootout in Florida.
Enjoy these photos from the town: The dual purpose funeral parlor/furniture store, the library, Mama Loca's Cafe, Missouri militia, typical storefront, ivy unimpeded, "Black Lives Matter," local dancers, spirits in the window, Fred Raine Auction car, Ash Grove bank, citizen gathering. Click on any thumbnail to start a slideshow. (Photos by Ashley and Mari Winn Taylor)