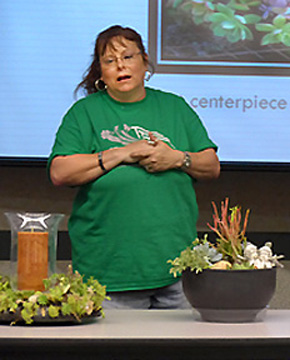 Angela Keith, pictured, a Greene County Master Gardener, is known for the centerpieces she creates out of succulents. She was the speaker at the May meeting of the Succulent Society of the Ozarks held at the Library Center in Springfield.
In making a centerpiece, Keith said to tap into one's own creativity. Pre-visualize what the outcome might be and choose succulents that fit your vision. Of course, don't disregard how hardy the plants must be for where the final result will be located. Do they need to remain indoors or can they withstand varying temperatures, including intense sunlight or lack of it?
Standing beside the centerpieces that she had already created, Keith suggested assembling this list of materials:
a reusable plastic wreath form - She gets hers from Mountain Crest Gardens
sphagnum moss or coarse sand - may be purchased at Lowe's
succulents (she called them driller, filler or spiller plants)
floral pins to secure roots until they take hold
a plastic spoon or fork to make a hole in the moss
floral wire/wire cutter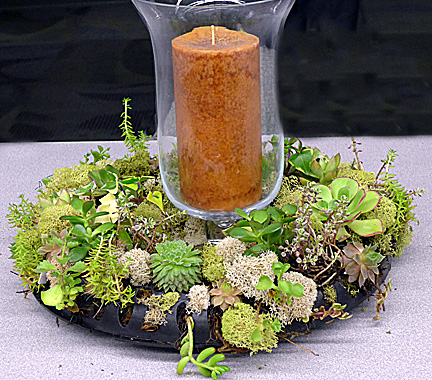 The first step in creating a wreath, she said, is to take the form and line it with the moss that had been soaked in water, then drained for 30 minutes. She starts on the inside of the form weaving trailing plants, making sure to leave room for their growth.
"You're always comfortable in what you came in," was Keith's response to how much dirt should be removed from the plant roots. However, she personally didn't want any dirt showing on wreaths that might be used as table centerpieces. She suggested covering it up with moss.
Larger plants should be appropriately divided. She uses pins to encourage the direction of the plant growth.
If you don't like the look that you are creating, Keith said that you shouldn't hesitate moving the plants around. Plants may be rearranged until the roots take hold.
When the design is complete set the wreath in a sink or hose it down outdoors. Then keep the wreath flat for 4-6 weeks.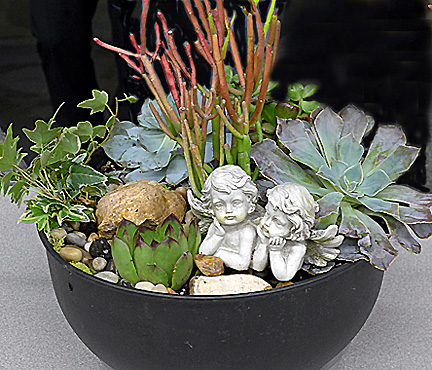 To embellish her creations Keith uses statuary, a votive candle for the center or any kind of trimming like burlap. "Anything can be used in the creation," she said.
Regarding watering, she said to water never or after 7 or 8 days depending upon the species of plants used. "Petals fall off if over-watered," she warned.
She said not to be alarmed if some of the cuttings wilt or die. Just replace them.
The youngest of 10 children, Keith grew up on a thousand acre cattle farm. She graduated with a degree in accounting/business management from Louisiana State University and currently uses her business acumen to serve as a wedding planner. She also divides her time between the University of Missouri Extension office and that of the Friends of the Garden at the Springfield-Greene County Botanical Center. She assisted in the design of the new succulent garden to be located near the south entrance of the botanical center.