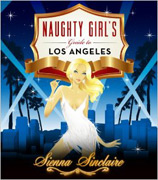 You may be too prissy to follow the suggestions offered in the travel book, Naughty Girl's Guide to Los Angeles by Sienna Sinclaire (Naughty Girl Press, 2012). Although the Ozarks are a long way from L.A., nothing, however, stops the willing reader from being a bit of a voyeur. The author believes that the first thing her readers need to do is to step out of their comfort zones, embrace their sexuality and have a positive attitude about sex.
While the author, who describes herself as an adult model, burlesque performer sex coach and world traveler, offers suggestions for kinky fetish events, sex toy shops and other forms of erotica, she also provides an interesting history of L.A., the rise of Hollywood and its attendant golden age of porn that saw the rise to stardom of such names as Linda Lovelace, Marilyn Chambers, Ron Jeremy and John Holmes. People, she says, still flock to L.A. from small towns and the heartland with hopes of making it on the big screen. They make it big, all right, if they're willing to accept porn as an option whether labeled burlesque queens or strippers.
This is a travel guide so there are suggestions for what to pack, places to stay--some more than just secret rendezvous--and where to eat. To make the list of L.A. sexiest restaurants, they have to make patrons "feel a bit frisky," Sinclair writes. However, many simply seem to be luxurious, are Michelin-rated and make visitors feel glamorous.
This book is offered for about $30 on Amazon although it is cheaper on the secondary market.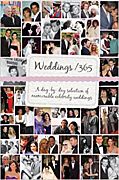 A marvelous title for the celebrity groupie is Weddings/365 - A day-by-day selection of memorable celebrity weddings compiled by veteran pop culture writer, Harvey Solomon. For those who fill their time while waiting in line at the grocery store reading celebrity weddings in the tabloids or celebrity magazines, Solomon decided to create this guide of celebrity weddings, one for every day of the year. The format allows the reader to check specific days--perhaps a family member's wedding day--to see which Hollywood icons, rock and pop stars, presidents and princesses, models and moguls were married on the same day and how many times they were married and how long. Interspersed are also lists like "A baker's dozen of the shortest celebrity marriages." (Rudolph Valentino and Jean Acker in 1919 take the prize for being married only six hours!)
Can you name Elizabeth Taylor's eight strolls down the aisle (seven husbands) or which celebrities with much fanfare in advance never made it down the aisle? What brought these couples together, how and where they married, and what tore them asunder (death or divorce) also is cataloged.
Want to know when a specific person was married? There's an alphabetical index that leads you to the correct date.
What also makes the book interesting is the photography and layout that incorporates quotes. Of course, what may be a drawback is the difficulty in keeping up with the number of celebrity divorces. For an exact count one might have to go back to pursuing those tabloids and celebrity magazines.
Buy the book from third party sellers on Amazon.com starting at $17.96.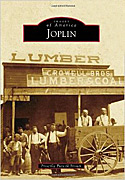 The newest addition to Arcadia Publishing's "Images of America" series is Joplin. Local author Priscilla Purcell Brown, whose ancestors came to the Joplin region before 1850 to farm, chronicles the history of this southwest Missouri town using more than 200 vintage images and two photos of Cunningham Park that exemplify the destruction caused by the May 22, 2011 tornado and steps to its rebirth. It is this disaster, causing the destruction of many photographs and memorabilia, that became the catalyst for gathering and publishing available significant photographs to preserve the city's history. They came from many collections, both private and public, and included significant contributions from the Webb City Area Genealogical Society, Jasper County Records and U.S. Bank, to name a few.
Old mining pictures; early school groups, both segregated and not; the community of Joplin including family portraits and housing; the movers and shakers of business and its growth; participants in the war effort (like Joplin native and movie star (William) Dennis Weaver as a Navy pilot during World War II) and different groups of worshipers are all included. The book concludes with celebrities as well as those who stirred notoriety in Joplin. Joplin's history cannot be complete without mention of Bonnie Parker and Clyde Barrow.
The book is available at local retailers, online bookstores, or through Arcadia Publishing for around $20.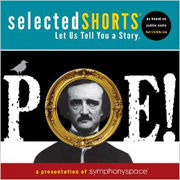 For fans of the macabre what better choice for a CD than Edgar Allan Poe! Selected Shorts, the series recorded live in performance at New York's Symphony Space and broadcast nationally on public radio. This is a two disc set highlighting eight of the most popular short stories and poems produced by the mad imagination of this 19th-century Gothic master. They are The Tell-Tale Heart, The Raven, The Masque of the Red Death, the Cask of Amontillado, The Bells, The Pit and the Pendulum, Annabel Lee and The Black Cat. Running time is approximately 2.5 hours. The chilling audio performed by over a half dozen artists is a perfect time filler for the long range traveler or pre-teens at a pajama party. By this audio CD here for $14.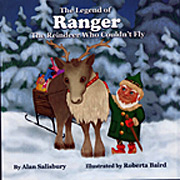 Our pick for one of the best children's books for gift-giving is The Legend of Ranger, the Reindeer Who Couldn't Fly (Jaberwocky Books, 2013). Author Alan B. Salisbury, a retired Army general with 30 years of military service, wanted to take the army's message, "be all that you can be" and distill it for a younger audience. Also, it is commendable that all profits from the sale of the book will go to support the Antonia J. Giallourakis Endowed Fund in Art Therapy for Children with Cancer at MassGeneral Hospital for Children.
The gist of the story is that poor Ranger, a reindeer who can't fly unlike his older brother Rudolph, searches all over Santaland to find the reason he is grounded. Everyone, it seems, gives him the same advice, "the secret lies within."
An opportunity arises for Ranger to discover the secret. Several of Santa's flying reindeer become sick and he is asked to accompany Zarvett, the chief reindeer keeper to and from the far-off village of Krystalwite where they must pick up medicine for the reindeers' recovery. Pulling Santa's special sleigh carrying Zarvett, Ranger must conquer his fear of failure, surmounting obstacles that hinder their journey. Time is also of the essence as Christmas Eve approaches.
Roberta Baird is credited with the cover design and illustrations within that bring the elves and reindeer to life. The book is available at Amazon.com for $11.66; a Kindle version is $6.99.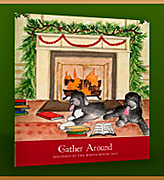 A free download is available for the 2013 White House Holiday Tour Book. The 16-page booklet created by students from Sitar Arts Center and the Duke Ellington School for the Arts, both located in Washington, D.C., features background on the decorations in each of the rooms as well as a recipe and greetings from the Obamas. It can be found here.