by Mari Winn Taylor

Retirement is bittersweet. While it affords leisure time to do what was too time-consuming before, it has shock value, for suddenly what was once routine is now disrupted.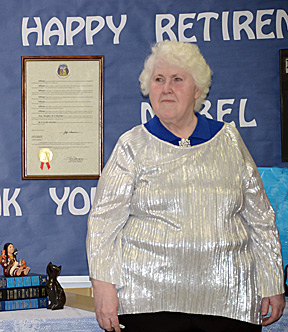 Scores of people were piling into the Dorothy Netzer Meeting Room of the Christian County Library in Ozark yesterday (Nov. 15, 2013), as they came to honor someone for whom they had the greatest respect. After 26 years of devoted service, Mabel G. Phillips, pictured at left, was stepping down as the library's director. The new director, Geri B. Olmstead of Republic, an appointment by the Christian County Library Board, will take over after Thanksgiving.
Greeting each guest at the door, most of them with a hug, Phillips suggested she was having an out-of-body experience. "This is sort of unreal," she said. "It's someone else out there."
But as photos of herself during several stages of her life flashed on a screen, Phillips could only say, hey, that's me. before asking where the party organizers got the photos. She was reassured that the break-in at her house was by family members.
What do you say about someone who has devoted 42-years of public service, some of the time spent working her way through the library system in Iron County. Ken Barthelette of Clever, president of the Christian County Library Board of Trustees, in thanking Phillips, mentioned how frugal she was during her tenure. He told those assembled that she will be leaving "a pot of money for her successor."
Formally presented to Phillips were two plaques from the Missouri House and Senate, recognizing her years of service. A bit of banter was exchanged regarding all the "where as-es," which proclamation was more meaningful and which frame was not made in China.
Taking the spotlight, Phillips gave credit to all those who put together the event, calling their work, "amazing." She also made several remarks about getting library improvements.
Regarding expansion, for which, she said, people eventually will recognize the pressing need, she concluded, "when you're ready to pay for it, you'll have it."
History of the Christian County Library
By a 2 to 1 margin voters in 1949 approved monies for a Christian County Library District funded jointly with Stone County. By 1951 that partnership was on the rocks and a "reading center" was established off of the square in Ozark, albeit in an 1880s livery stable/converted garage. With 60% of the funding coming from Christian County residents, in the mid 1950s, the question was asked, why have the library's headquarters in Galena? With funding at the legal minimum, organizers were able to set up the library headquarters in a storefront in Ozark, using bookmobiles to reach outlying areas of Christian County. However, according to historical documentation, the location had a leaky roof, inadequate shelving and, one would assume to be true based upon odor present, a skunk and a cat dead in the walls. The final location at 1005 North 4th in Ozark overlooking Finley Park, was made possible in 1971 through a donation of land by Howard Garrison and the overwhelming approval by voters of an increase in the library's portion of the property tax levy.
While Phillips mentored improvements to the library's operations, such as expansion of space and renewed technological advances such as having WiFi access, she would not be privy to the construction of three new LEED-certified library facilities scheduled for the end of 2012. Through the years her frugality had allowed for the accumulation of money for the purchase of three pieces of property--at 601 N. Fremont Rd. adjacent to the Richwood campus of OTC for a central library, at 7428 Highway 14 in Billings/Clever for a west branch and at 161 Wilson Ct., Sparta for an east branch, but no manner of pressure or explanation for the need could convince voters to approve the $11 million expansion. The measure was voted down twice in November 2009 and April 2010. Currently, any future tax proposals have been postponed while private money is being sought. With no dirt unturned, only signs marking the future expansion of the library designate its possibilities.
So, such is why Phillips may be leaving with a sense of frustration. But regarding her retirement, Phillips quickly replied, "I look forward to turning over [in bed] and saying, 'not my problem.'"
Enjoy photos taken during the retirement party. Click on any to start a slideshow.