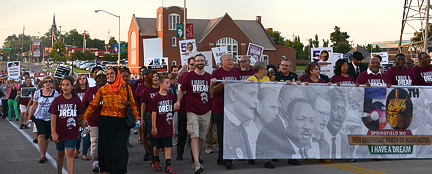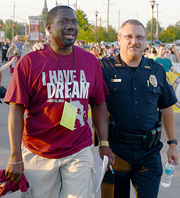 Joining the thousands who marched during the city of Springfield's tribute to Martin Luther King on August 28, 2013, were (L-R) event organizer David Knox and Springfield's Chief of Police, Paul F. Williams

An impressive number of people honored the 50th anniversary of the March on Washington and Rev. Martin Luther's King's "I Have a Dream" speech. Assembling on the north side of the Martin Luther King Jr. Bridge located in the 400 block of East Tampa Street the group, some donning commemorative t-shirts, marched past the Shrine Mosque on a route that led them to Park Central Square.
The marchers were met by a large canvas screen that flashed images paying homage to King and the day in August 1963 when a massive March on Washington took place for jobs and freedom. Current local officials and activists were also shown voicing their support for what King stood for--stepping up for freedom, equity and human rights.
Taking the podium in the square Mayor Bob Stephens said he hoped to have the type of city Dr. King hoped to live in. "We can rise to the challenge of creating a better community," he said, renouncing such impediments as prejudice and fear.
City manager Greg Burris spoke of "two bookends" for the coming year. The event in progress as he spoke was the first bookend; the second was to occur in July 2014 commemorating the signing of the Civil Rights Act. He promised that it would be spectacular.
Burris hoped that a "conversation" could be promoted beginning with "you..me" and self-introspection and broadening to include family and friends and "places we gather."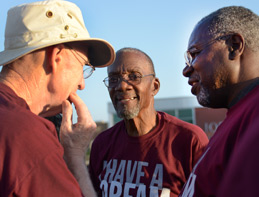 The embodiment of Martin Luther King's message is demonstrated, "Black and white together, we shall overcome"
Representing the Greater Springfield Faith & Race Collaborative, David Knox, 2nd vice president of the NAACP of Springfield and an advocate of non-biased communications, called attention to legislators in the crowd--national, state or local--had them hold up their hands (unfortunately it really was too large a mob and too dark to catch their locations). But Knox in a vitriolic speech wanted to make the point that as public servants they "had so much more to do," that they had a "keen sense of duty to represent all of the people." He rattled off that it was not about them, campaigns, greed or political ideology. Specifically he was addressing the issue of voter I.D. laws, calling for policies that under the pretext of eliminating fraud would not make it more difficult to vote. He implied that black unemployment would be addressed by the creation of more jobs and that no more Trayvon Martins should be victimized by stand your ground laws.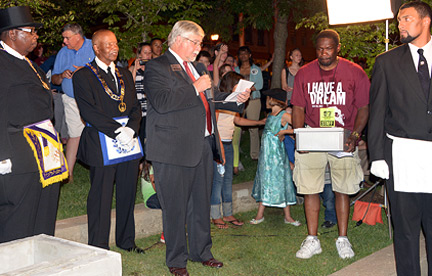 Springfield Mayor Bob Stephens reads a list of objects to be contained in a time capsule hopefully to be opened in a similar celebration in another 50 years.
What indeed was the highlight of the event was the placement of a time capsule in the small vault at the base of the monument that is a sad reminder of the lynchings of three African-American men later presumed to be innocent, a symbolic "burial of hate" that includes: a proclamation from the city of Springfield, photos of people and groups attending the evening's festivities, photos of signatures and notes left at the welcome table, samples from current newspapers and other media recollections of the day, a digital copy of the Field Guide 2030, or the community's strategic plan, and information gathered about the Springfield-Green County Park Board's 100th anniversary.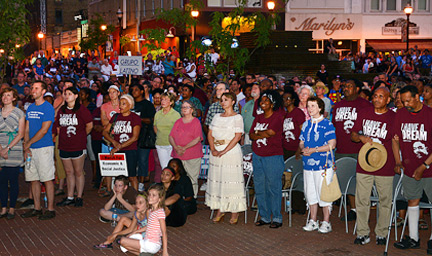 Participants stand to pay tribute to Martin Luther King during ceremonies in the Park Center Square, Springfield.