At approximately 5 a.m. on Dec. 12, 2014, the Springfield Police Department was dispatched to 1119 S. Gelven for subjects breaking into vehicles. The two subjects, now identified as Gage C. Scott (3-18-97) and Jeremiah T. White (9-27-95), entered an unlocked truck at this residence and removed a built-in stereo system. According to video surveillance at the home, Scott and White then walked to the front porch with machetes strapped to their persons. After looking through the windows, White pulled a mask over his face and they opened the front door. Residents were home at the time, and their dogs began to bark, causing Scott and White to flee from the residence on foot.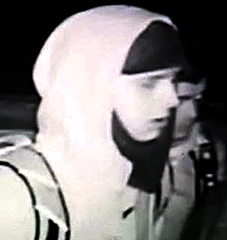 Multiple reports of tampering or theft from a vehicle were reported later in the day. One of those reports came from a citizen who saw a news story displaying the surveillance video, pictured, from the 1119 S. Gelven residence. This citizen believed to have made contact with the two subjects in the video. He reported to police that the two young men asked to use his phone, and one of them revealed his name to be Gage. The citizen still had record of the phone number in which Gage dialed. Using police resources, it was determined this phone number was associated with Gage Scott.
On Dec. 16, police conducted a traffic stop on a vehicle and made contact with both White and Scott. The officer who took the initial burglary report on Dec. 12 also responded and was able to identify both subjects from the home surveillance footage. The two were taken into custody and questioned about the tampering and burglary cases.
Scott and White have each been charged by the Greene County Prosecutorís Office with first-degree burglary and first degree tampering with a motor vehicle. Bond has been set at $50,000.
Both Scott and White were known to police prior to these offenses and have pending charges against them for similar but unrelated cases.
The charges announced herein are merely an accusation, and Scott and White are presumed innocent until and unless proven guilty.