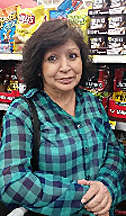 The Springfield Police Department is investigating a report of a missing person and is asking for assistance from the public. The missing person is identified as Phoebe Bryant, pictured, a 56-year-old Hispanic female. She is approximately 170 lbs, 4 feet 11 inches tall with brown hair and brown eyes. Bryant was last seen in Springfield on foot on June 17, 2014, at approximately 10 a.m.
Bryant's friends and family are concerned that she might be in need of assistance due to a medical condition.
Anyone with information concerning her whereabouts should call 911 or the Springfield Police Department at (417) 864-1810.