by Jack L. Kennedy

Mark Spivak, author of Friend of the Devil (Black Opal Books) instantly proves to hungry skeptics that it Is possible for a journalist to cook, eat, drink fine wine and write at the same time.

In Spivak's first novel, his hero-alter ego and lead character David Fox, a New York newsman and freelance writer, proves himself to be brave, trustworthy, tough and creative. How can any reader resist a character with those credentials?

Fox is hired to write a biography about presumably America's most famous chef, Joseph Soderini di Avenzano. In the process, readers discover that one of Fox's favorite dishes becomes the restaurant's hostess or Avenzano's mistress. As the tale unfolds and secrets hidden for generations surface, it is revealed that the Palm Beach culinary center Chateau de la Mer, its famed chef, and many of the staff have ties then and now to the Italian Mob. Fox flirts with danger, mystery and indigestion as he winds his way through the mystery of the hallowed chef and what made him grate (sic).

Did the chef make a deal with the devil, perhaps in mob form, so he could achieve success? Can former newsmen become memorable fiction writers, à la Hemingway? Those are but two of the intriguing questions raised as the reader winds through the circuitous and strangely compelling story.

Spivak, a onetime wine writer for the Palm Beach Post, has written several non-fiction books with culinary or fermented themes. For his first fiction foray, principal character Fox is introduced in the 1990s, after the yarn jumps locales or entire generations and eras. This split-screen back and forth writing approach is used to advance the age old conflict between good and evil. Characters have their past peeled away, old homicides are revisited decades later--such as kidnapping by a mobster on a mission begun ages before-- family secrets revealed – often over drugs, a dish of good pasta, and a glass of Grey Riesling.

In Friend of the Devil eating during a job interview is not a distraction, it is encouraged. Scotch scones even appear on the literary plate at one point—seasoning an otherwise Sicilian crime and food menu. Fox has a passion for both food and females as he tries to avoid both bodily and psychological pain.

There is magnetism and mystery in this culinary complexity. Even readers who prefer a more bland diet may be drawn to the debates and shadows in Friend of the Devil. There's nothing like a spicy tale to entertain and fulfill.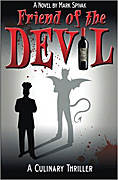 Title: Friend of the Devil
Author: Mark Spivak
Paperback: 326 pages/Kindle: 728 KB
Publisher: Black Opal Books (May 27, 2016)
Language: English
ISBN-10: 1626944520
ISBN-13: 978-1626944527
ASIN: B01G97VRZ4