by Jack L. Kennedy--

Warfare uses many weapons, and internal battles are the most difficult.

That is the major lesson perhaps in The Father, The Son and The Holy Spirit are REAL by longtime drug addict David Butler (Xlibris).

The thin but at times sinewy and strong volume might make a springboard for discussion in church, or quiet moments alone, of the faith, hope, persistence and other ammunition needed in the personal and societal combat against drugs. For Butler, who says he is now an author of children's books, the drug door opened in college when he tried marijuana. The Iowa farm town boy hopped from city to city, country to country trying to find himself and deny his addiction to cocaine and other lures. The drug desire grew and "I lost all control of life," Butler admits now, after years of denial, doubts and tension.

The book includes Bible citations and very pointed, personal reflection and roadblocks, stories of those who tried to befriend him and places he went to forget or to find new, if shallow, support. He spent time in an Arizona rehab program as an alternative to prison,while finding that drugs had turned the former junior high school teacher into a captive of his own past. In May, 2010 he tried escaping persistent demons by going to the Netherlands, but before long was back in Kansas City.

"Summer was over; as far as I was concerned it was my last one," the author laments. The addiction and doubt and insecurity remained. Little family support remained. Butler considered suicide.

But Butler hung on having found an understanding, non-judgmental clergyman/listener-mentor and a like-minded friend or two. A few months after the depths of despair appeared ready to claim him, Butler was married. He had found new religious fervor, a wife and new hope.

Is the battle over? One suspects that the author's story is still being written.

While the tale could be improved by proofreading for obvious grammar errors and mentoring to expand ideas in further detail. Butler has cogently conveyed his new-found hope and sense of purpose, Old addictions--chemical or psychological--for him are stories of the past. The success he has described should be therapeutic for others battling the same demons.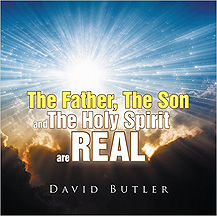 Title - The Father, The Son and The Holy Spirit are REAL
Author - David Butler
Pbulisher - Xlibris (Feb. 12, 2016)
Paperback/34 pp. ($21.99)/Kindle/783KB ($3.99)br>ISBN-10: 1514456273
ISBN-13: 978-1514456279
ASIN: B01BVM8YPS