by Jack L. Kennedy

Anyone who likes dogs, colorful characters and good writing will read A Dog's Choice by Allan Meyer. (Arizona Vintage Investments)

The book is the perfect prescription for a lazy day or boredom. Simply find a shady spot and curl up with a good dog, cogent book and real or imagined friends. Relax. Enjoy the environment. Listen to the stories from Eddie and his talking dog, Zelda.

Yes, talking dogs do exist. Any dog owner will tell you that. They help raise children, know when their owners want to walk in the park, and may even sniff out worries about cancer. Zelda the pup grew into a very effective, open, outspoken communicator with Eddie.

The book is labeled a "fable," and spends a lot of time debating the definition of "myths." A focal point in the author's mind may be that truth and fiction, meaning and mystery, often are hard to define, or are in the eyes of the beholder. Life is worth barking about, Zelda and Eddie both learn.

Meyer has done some mental and physical meandering himself, he said in a telephone interview. For 23 years from 1970 to 1993 he was an English faculty member at Cochese College, a 2-year school in Arizona. At 18, he had a morning shift on a small Norfolk, Nebraska radio station, did broadcasting in Lincoln and places in Kansas, Iowa and other spots before turning academic. Meyer found himself in northern Maine, teaching at a school for troubled boys, before the weather froze him out. Remembering, he shuddered.

The book virtually "wrote itself," he claims, as he tried not to over-structure or over-write it while Zelda and Eddie got to know each other and their neighbors and themselves. The often witty, varied vibrations in A Dog's Choice are carefully crafted, with some of the best phrasing and word choice the reader will see anywhere. Meyer even pokes gentle fun at his own longtime profession, for example, as he notes one buddy's college major dealing with "early Armenian mindsets."

Although the reader initially is introduced to the fictiitional town of Hearts Landing, Arizona, the setting of much of the book is in the Midwest and a tiny town named Embers. As an example of the author's continuously interspersed humor, is the claim that, "It doesn't take too long for tourists to get to the end of a street in Embers. Either the street becomes impassable or their curiosity runs low."

As they travel the streets in their own lives, Zelda and Eddie listen to and often do verbal combat with a wide range of folks and their political or social opinions, while never seeming to lose a sense of humor.

Zelda the canine, of course, claims to be in charge of the relationship, not the alleged adult. Dog owners will recognize this four-footed trait, too.

Thinking, reacting, respecting and relating to others are among the central threads of this well-sewn volume. Small, simple things deserve introspection and may then appear larger, Meyer often suggests.

Zelda ultimately proves, poignantly, that while one's ashes may be put in one spot, one's spirit is scattered everywhere.

A dog has a mind of its own, and can read yours. So cuddle up with a good dog and this good book.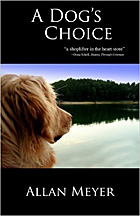 Title: A Dog's Choice
Author: Allan Meyer
Publisher: Arizona Vintage Investments, LLC (Oct. 20, 2013)
Available on Amazon Digital Services/Kindle (File size 387 KB/142 pages)/$6.99