by Jack L. Kennedy

Good real estate is often difficult to find today.

The most elusive, debatable plot, perhaps, is "common ground," Rachel Held Evans says, forcefully, faithfully and from both her heart and mind in a compelling, unique volume, Searching for Sunday (Thomas Nelson).

The daughter of a very evangelical, rigid, narrow father who became a faculty member and administrator at a college in Dayton, Tennesee, she has spent her life searching for herself, her beliefs, and how to articulate them. But those who are wary of books with a religious, theological, contemplative theme will find the journey to Sunday very rewarding and often unpredictable. At its heart, it is based upon people, not dogmas; searching, not prescribing; touching, not judging.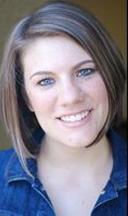 Evans, pictured, is a onetime journalist and award-winning humor writer, who majored in English at her father's alma mater, Bryan College, named fpr William Jennings Bryan of Scopes Monkey Trial fame. Her upbringing was conservative, her faith based upon strict rules for herself and for others who wanted to find religion. Not everyone met her criteria.
The book's subtitle is revealing: "Loving, leaving and finding the church." The trip is at times rocky, testing beliefs and others' upbringing, gay relationships, church routines, who gets to go to heaven, how much the psychological trip costs, and whether heaven is up there somewhere or here on earth. The story is one of personal growth, not piety or pomposity. It is built on the tales told by various types of personalities, not through preaching.
As part of her search for meaning, not just religious symbolism, Evans tests many different theories of satisfaction. She helps develop some mega-ministries and some small understandings, as she sees friends grow as youth ministers while her attempts to found a "new church" fail.
One segment of the book talks about the Sacraments, not as a required ceremony each Sunday at an elaborate altar, but as a marker of a common meal to which throughout the ages all sorts of folks sat down, broke bread and had wine--because it was safer than the drinking water of the day--to pledge their love of each other and understanding that there is a force grater than they are.
Evans has some practical advice for congregations today, including those facing declining memberships: share facilities and resources. The aim, she maintains, is to reach out, find yourself as you find others, and realize that groups' ultimate goals are often not that different. The diverse, varied volume redefines or reexamines three often-used words: catholic, ecumenical and communion. All three refer to unity, universality and joining together. Virtually all denominational labels have contributed something to the growth of religion, Evans says.
The child of evangelicals who says she and her husband are Episcopalians at the moment proves that a trip to find common ground and the meaning of Sunday can be entertaining, informative and even humorous. The search for self is ongoing, and help is always available, Evans says. Readers will find the trip bumpy at times, but enjoyable. Keep your eyes open for road blocks.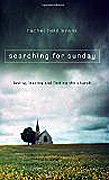 Title: Searching for Sunday: Loving, Leaving and Finding the Church
Author: Rachel Held Evans
Paperback: 288 pages/$12.02 on amazon
Kindle/964 KB/$10.49
Publisher: Thomas Nelson (April 14, 2015)
Language: English
ISBN-10: 0718022122
ISBN-13: 978-0718022129
ASIN: B00PWOH2CI