by Jack L. Kennedy

Magnetic books have many faces.

From Working to Wisdom by Brendan Hare (Jappa Flats Publishing) is like a mirror, reflecting the march of time. Its sub-title, "The Adventures and Dreams of Older Americans," is a bit of creative gauze, seeing the world through a mythical mist. The real message, for any reader, from Hare: "Expect, accept and adapt to change."

The recently retired corporate attorney who lives outside of Boston took two years to look inside of himself as he traveled the nation to talk to folk of all sorts who had left their careers for various reasons, retired and found new life. Some had "retired" two or three times. Each time, they came back with new energies, new or long-overlooked skills. A remarkable set of tales is woven into the book, from men and women who had been researchers, steelworkers, salesmen, corporate executives, educators -- a varied, energetic range of people from many backgrounds and income levels.

The enticingly misleading title is really unrelated to age or retirement. The central theme or the unifying thread is the still-eager folks' willingness to take chances at any age. Most are now teaching, but often not in the conventional definition of the word. They are passing themselves along to others. Hare himself, for example, turned to writing after nearly 40 years as a top lawyer with a major firm, a teacher, and a college economics instructor.
---
"It`s not how old you are, it`s how you are old."
― Jules Renard, French author (1864-1910)
---
Life's mysterious set paths play a role. One group of subjects retained their life and love and understanding of this country although they were interred for a time in a prison camp--for being Japan-born Americans during World War II. Denise who grew up in south central Los Angeles is another significant example in the book. The times and environment were not ideal for this child of a secretary and a laborer, but she graduated near the top of her high school class and became a prominent financial advisor and aide to others. A cop's son from the old, tough Dorchester section of Boston later became a policeman himself, He traveled through life relying on the strength of his mind and body. As he got older and creaky bones became less cooperative with his desires, a longtime friend offered to help when he confessed to falling and telling no one.
"What do you do when you fall?" the concerned friend asked. "I get up" was the swift reply.
The book's universality, variety and movement remind readers that the best way to help ourselves is to be strong enough to help others. As a reflection on growing older, the book tells its readers that no matter what the circumstances choose to live well.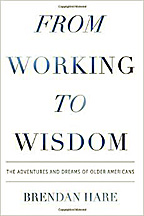 Title: From Working to Wisdom: The Adventures and Dreams of Older Americans
Author: Brendan Hare
Paperback: 324 pages/$14.72 @Amazon.com; Kindle/10321 KB/$6.99
Publisher: Joppa Flats Publishing (January 22, 2015)
Language: English
ISBN-10: 0996003401
ISBN-13: 978-0996003407
ASIN: B00T6S7QAE