by Jack L. Kennedy

Books can capture both the heart and the head, and often do both.

Mind, body and soul are all elements in a concise, caring, literate and loving approach to several audiences, in the Rev. John J. Lynch's The Logos as Reason, Word and Love in the Theology of Joseph Ratzinger. It was originally written as Lynch's doctoral thesis from Trinity Theological Seminary, an examination of the life and beliefs of Ratzinger, who became Pope Benedict XVI.
---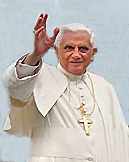 Art is elemental. Reason alone as it's expressed in the sciences can't be man's complete answer to reality, and it can't express everything that man can, wants to, and has to express. I think God built this into man. Art along with science is the highest gift God has given him.--Pope Benedict XVI, the 265th pope to be elected, resigned just short of eight years later citing a "lack of strength of mind and body" due to his advanced age. He was in his mid 80s.

---
Father Lynch, a searching, thoughtful one-time southeast Kansas resident, provides clues to the value and versatility of this tight volume in its title. He and Ratzinger make it clear early that they believe words (logos) must meld thought and emotion/caring. In other words, denominational arguing can and should coexist with emotion and question and use of the mind, and no religion need apologize for using any of those elements.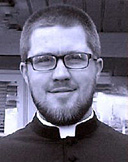 The author, an Anglican priest, pictured, began developing his mix of emotion and mind as an approach to understanding at a rather early age. At one point in the 1990s Jack Lynch was a Pittsburg, Kansas resident and high school-age parishioner at St. Peter's Episcopal Church, where the congregation saw him mature. The vestry or church governing board wisely offered him a scholarship that assisted in allowing him to attend Wake Forest University.
He cataloged a wide variety of personal experiences, since graduating from college, in several books whose themes benefit and nourish a diverse number of readers. Logos, representing "the Word" and pure biblical theology and direction often are presented not as wooden, dogmatic unquestionable facts but lively links to love, learning and serving through doing--using heart and mind together, putting faith into action, not just listening to a sermon on Sunday.
Father Lynch lives his words, many would say. He currently is rector or pastor of Christ the King Episcopal Church in Tabb, Virginia. He developed the primary concept of charity having served seven years as an Episcopal missionary in Honduras at a bilingual diocesean school and seminary. He became interested in Ratzinger, a Roman Catholic, as he developed his own philosophy not bound by theological constraints. As a young rector-scholar-communicator, he has explored and put into digestible paragraphs not only the thought process of popes like Ratzinger, but has had published other books on beliefs, the meaning of the Episcopal creeds aimed at both individuals and groups, guides to daily prayers, and texts in the Spanish language.
One of the intriguing aspects of the current book is its ability to tie seemingly different denominations together at the heart of their faith and practice, while exploring Pope Benedict's own strong ecumenical efforts. One of the book's clearest messages, strict theology aside, seems to be that there is much that all of us have in common—love, dedication, belief, direction.
At one point, Father Lynch summarizes Ratzinger's approach to dialog or understanding among denominations and individuals:
".....all participants, including Christians, must be willing to exercise honest self-criticism in light of the truth. Second, all participants must establish and affirm those true elements that they hold in common" and apply reason to pursue those elements together and reach common ground.
With God as the source of truth, faith and reason are both necessary to understand Him. Lynch the Episcopal priest and Ratzinger the Roman Catholic pope agree. Read John J. (Jack) Lynch's book and you may agree also.
---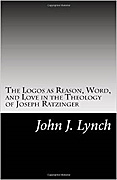 Title: The Logos as Reason, Word, and Love in the Theology of Joseph Ratzinger
Author: John J. Lynch
Paperback: 138 pages/$13.46 at amazon.com

Publisher: CreateSpace Independent Publishing Platform (June 11, 2014)
ISBN-10: 1500169528
ISBN-13: 978-1500169527