by Jack L. Kennedy

Finding reliable and readable advice in print is not always easy.

Sometimes, alleged experts offer their vast or half-(v)ast knowledge in very authoritarian ways, as if their 300-word document is the only answer.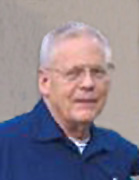 But animal lovers everywhere should enjoy and benefit from reading The Truth about Dog and Cat Treatment and Anomalies by Robert L. Ridgeway DVM, pictured. (iUniverse) The multifaceted veterinarian demonstrates his firm grasp of small animal problems after a lifetime of public and private veterinary service and teaching. But unlike some who try to impress readers with their knowledge, Dr. Ridgeway writes in clear terms about everyday concerns while not pretending to have all the answers.
Very early in the handbook, the author does emphasize two major points: When in doubt call a veterinarian immediately and do not depend entirely upon what you read about a feline or canine problem. He advises setting up regular checkups as one should as a human being, to prevent higher costs, treatment expenses or tragedies at the last minute, but the main purpose in writing the book is to educate pet owners so that they will be knowledgeable enough to solve many issues on their own. These thoughts come from a vet who holds a DVM degree from Kansas State University, did a residency at the University of California-Davis and who was director of the animal medicine division of the US Army Veterinary Corps on Okinawa. He also has been in charge of the military dog veterinary service at Lackland Air Force base in San Antonio, Texas. Currently he is a veterinarian at Orange County Florida Animal Services.
The unpretentious author from Orlando, Florida in a clean, compelling style gives the reader hints about what to do in the case of 150 dog or cat concerns or ailments or anomalies. Charts are scattered throughout the book featuring a broad range of symptoms, treatments or prevention. His sought-after advice includes everything from an easy way to clean your pet's ears, how to handle hair loss, what might be bad about using plastic dishes, what vaccinations are necessary, what is the most predominate cause of vomiting in cats besides hairballs (and a treatment you've not thought of for this common problem), dealing with bad breath, what happens to a pet on a diet of only meat and dealing with fleas and heart worms.
The good doctor likes to begin each chapter with an unusual device for the subject matter, a quote from a well-known person or author. One collection of timely tips which he hopes to be disseminated opens with a Benjamin Franklin quote: "Three may keep a secret, if two of them are dead." Even Winston Churchill gets a sage line in print.
A chart listing toxic household items, growth rate tables, thoughts on when a pet may or may not need surgery, and common remedies pet owners might have around the house, enhance the wide spectrum of topics that are included. (However, aspirin, he warns, should be administered cautiously, not as an overdosing cure-all.)
Both you and your favorite dog or cat will benefit from the book. This also is a great gift for the pet owner you know.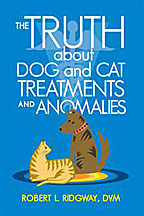 Title: The Truth about Dog and Cat Treatment and Anomalies
Author: Robert L. Ridgeway, DVM
Paperback: 366-pages, $21.56; 493 KB, kindle ed., $3.99
Publisher: iUniverse (October 31, 2013)
ISBN-10: 147599673X
ISBN-13: 978-1475996739
ASIN: B00GX35BYI