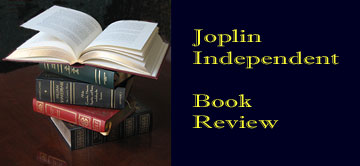 by Jack L. Kennedy
In a sense, Colin Brown has written an at times unconventional "travel book."
His feelings are evident early in Outside the Camp, subtitled "The wisdom, humility and power of the church." (West Bow Press). The book does not attempt in its tight but nourishing format to tear apart centuries of doctrine or tradition or practice or belief. However, its mission seems rather simple and forthright, foretold by the book's title. Several descriptions come to mind: "modest," "unadorned," "loving" and "humble." In fact, humility as it must be shown by both church and individuals, is a constant thread of the book, and it might serve many folk well as both a private devotion and a more public discussion.
It is a "travel book" in the sense that in describing changes in the organized church, it lists the steps it took to get there in order to retain its modern-day relevance. The "roads" that have been taken to get some religious thought to where it is today may not be always agreed to. Brown often seems to remind the reader that there is no GPS for faith and hope to provide certainty for life.
Founder of the Australian Christian ministry called Outside the Camp, Brown from Tasmania, Australia, oversees several groups relegated to advancing what he considers the church's mission. What may set his little volume apart from some theological literature is that it is often very personal, anecdotal, concrete and realistic. Principles of behavior or relationships or church growth, for example, are defined by the experiences of present day human beings, not just biblical figures. To Brown, the church he teaches and preaches about is more people-oriented rather than a compilation of stone edifices, more about action than words either written or spoken, and about sharing in a real non-facebook sense.
At one point Brown recalls his college days of the 1970s, where his personal "travels" encountered dreams and doubts and decisions. The journey, his writing suggests, calls for willingness to observe and then make changes, if necessary.
The personal touches, simple but strong approach make Outside the Camp worth musing over in a quiet moment, or sharing with another soul who is on his or her own journey. In summary, the church has changed, Brown believes. It is less structured and more humanistic--about service and sincerity and sensitivity.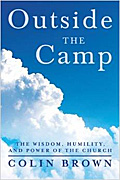 Title: Outside the Camp
Author: Colin Brown
Hard cover ($21.90); paperback, 116 pages, ($10.76); kindle, 280 KB ($3.99)
Publisher: WestBowPress (September 27, 2013)
Language: English
ISBN-10: 1490810005
ISBN-13: 978-1490810003
ASIN: B00FUZTALA