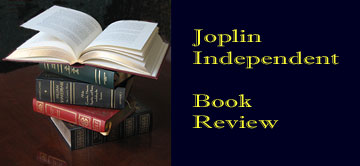 by Jack L. Kennedy
Some alleged experts often are "barking up the wrong tree" when they give advice about pets.
There are many misconceptions (a.k.a. old wives tales but why not credit husbands as well?) that the author has confronted with humor, cogency and authority in Old Spouse's Tales About Animals, subtitled "Myths about animals and the true story revealed" (authorHouse). Any pet lover will find the modest volume a knowing and often witty contribution to the literature about how to raise good companions.
Author James F. Gaines, DVM is a story in himself. He has made unique contributions. In 1966 he was the first US Air Force veterinarian who went into Vietnam and established a sentry dog corps.
Gaines retired as a lieutenant colonel but continues to research into and care about animal problems due to human errors. His veterinary practice includes avian and exotic pets as well as canines and felines. He even has worked with camels in Egypt. (No, they do Not store water in their humps so they can go endlessly without becoming dehydrated.)
A pressing concern today, especially in our Midwestern agricultural area, is the impact of genetically modified foods. However, Gaines maintains that beef cattle and plants have benefitted from genetic modification and hold no danger for animal or human consumption.
Other myths that the author wants to debunk are that birds are weaklings, all scraps are bad for pets and are not as good as expensive, fancy prepared feed, and dogs have poor eyesight. He also thinks that "debarking" a dog that neighbors have found objectionable is not cruel and inhuman. As a vet, he has done it.
His other advice, although self-serving, is not to wait to take your pet to the vet but set regular checkups. And do help a new mamma when she gives birth to a large litter. After all, a big brood can be a handful, despite the best maternal instincts. This sounds like good advice for both humans and pets.
The author does take umbrage with companies who use animals to test their products and often deny it. Indeed, some of his ideas may be controversial inspiring further thought and debate.
The tales will give many folks something nourishing to chew on. The book may be a good excuse to find a cocker spaniel buddy, curl up together and enjoy answers that will surprise you.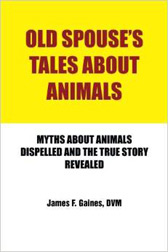 Title: Old Spouse's Tales About Animals--Myths about animals and the true story revealed
Author: James F. Gaines D.V.M., M.S., D.I.P., A.C.L.A.M., L.T.C.O.L., U.S.A.F., R.E.T
Paperback: 150 pages; 246 KB
Publisher: AuthorHouse (September 24, 2013/October 3, 213)
Language: English
HC, $21.59; PB, $13.46, Kindle, $3.99 at Amazon
ISBN-10: 1491810203
ISBN-13: 978-1491810200
ASIN: B00FMXNTOY