by Jack L. Kennedy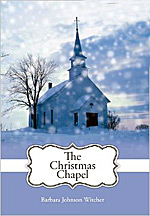 The most lasting structures are preserved by the memories of people, built of bricks and stones but mortared together by faith.
That may be the major message of the small but memorable book, Christmas Chapel by Barbara Johnson Witcher (West Bow Press, a division of Thomas Nelson. Sept. 3, 2013). The true meaning of Christmas develops as a snowstorm two days before Christmas forces old parishioners or newcomers of all ages to seek shelter in a small untended century old chapel in a poverty-stricken area. Some want the building torn down, others want to save it. Often memories reveal lives that have changed since former attendees have left the old church.
The folk who sit in the pews are a diverse lot...now-successful business leaders, even leaders of mega-churches who pause to think about their humble hometown church. The chapel also attracts wandering and homeless persons searching for some meaning, a few minutes of physical and spiritual food.
The author tells the stories through the eyes of the variety of persons who have come through the chapel doors and stranded have time to pray. It is an unpretentious, simple story of folks whose lives are unexpectedly woven together. An unusual literary device is the chapter that suggests ways in which the readers themselves may stop, meditate a bit and answer specific questions about what happened to characters who have found their way.
Visitors discover that the historic church still offers much in its own quiet reflective way and should not be torn down. Their affection for it and value from it have stood the test of time.
The transgressions, frustrations, heartbreak and shallowness that the church sees are woven together by an author, now 73, who spent most of her previous years in business and broadcasting. Witcher underlines that as Christmas Eve approaches, lasting "churches" or "relationships" are built by people, with or without buildings.