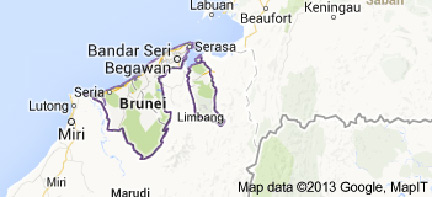 The Nation of Brunei, with a population nearing a half million in 2012 and extensive petroleuum and natural gas fields--Forbes ranks it as the fifth richest nation out of 182 with such resources--is a sovereign state located on the north coast of the island of Borneo in Southeast Asia. The present Sultan of Brunei is a Moslem named Hassanai Bolkiah. He's had several wives and at least a dozen children.
by Jack L. Kennedy
Looking for a way to amuse yourself on a dull winter day?
The Organ Grinder's Monkey by Robert Rangel with Steve Hui (XLibris) is, the subtitle says, "a true account of working for the richest family on Earth, the Royal Family of Brunei." Its major ingredients are exotic locations in the US and abroad, pride, intrigue, diplomacy and occasionally fear and doubt, used to keep either members of the royal family or Rangel and Hui on their toes.
Two other main elements of the volume are pretense and nearly 400 ego-filled pages which tighter editing might have strained down to about 250. But if the book is a bit too fat and has few substantive calories to consume, it is often as satisfying as a good, fluffy holiday dessert. Perhaps, its size mirrors the lifestyle of author and royal characters. So settle by the fire on a chilly December night and enjoy.
---


At left, Sultan Bolkiah
At right, Pengiran Anak Saleha,
whom he married

---
Rangel, who apparently is not a very modest soul by nature or nurture, left his post after 13 years as a deputy sheriff in Los Angeles to be a security boss for the bunch of Brunei sultans, princes, princesses, spoiled brats and shadowy figures. For a dozen years his duties took him to the family's homeland, plus London, New York, Las Vegas and other spots where he was supposed to arrange for security and royal creature comforts, often with little notice or reason. As the real-life power struggles continued with the royal clan and its hangers-on and hopefuls, Rangel developed strong ties to a few of the more likeable or trustworthy or dependable figures with whom he dealt. He also had to cope with lies, sex, distrust, and such issues as how to discretely transport what was called "cargo" in the form of women for hire to provide recreation for some male family members. Economic sins and battling personalities with Rangel in the middle add some spice to the volume.
Although Rangel does feel like a monkey on a leash just dancing whenever his masters want to see him perform, he admits he liked the money, travel, and eventually even some of his royal employers.
Chapter titles like "Working for Idiots" and "Spies and Lies" give hints about the lifestyles of cast and author. Some would find his drawing of the people behind the princes and sultans rather sketchy, and a more substantive definition of the characters contributing more to the tale, if the royal family does indeed have any substance. As the final act nears, a death due to cancer adds a touching moment to an otherwise frivolous set of pages.
Rangel promises a second book...or is that just a threat?
---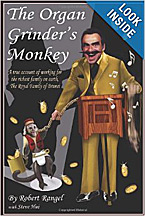 Title - The Organ Grinder's Monkey
Author: Robert Rangel with Steve Hui
Publisher: XLIBRIS (May 30, 2013)/ pp. 384
$26.09/hard copy,$14.39/paperback, at amazon.com
ISBN-10: 1483626792
ISBN-13: 978-1483626796C

---