by Jack Kennedy

Life has been a complex, emotional, paradox for Denver newsman/editor M.J. Burke Sr.

Funeral in a Feminine Dress is labeled a memoir. The often physically and emotionally painful attempt to dress his battered mother and abusive, confused father in garments that are real but recognizable and accurate has few lighter moments.

The Burkes never were married formally, and had separate bedrooms as Michael and his two brothers grow up. Shouting and hitting behind closed doors, alcoholism and constant moves because of lack of funds for housing, or neighborhood social pressures, were the norm for the struggling family.

The book is a catharsis, for Burke or, perhaps, for others who have faced or face similar daunting circumstances. There is a mixture of ego, self-confidence, and, yes, even love, as young Michael experiences his sandpaper-like environment that would discourage, demoralize and, perhaps, demonize a weaker child.

Even though he seldom has either of his parents show up for his high school or college football games in Colorado, Burke grows. He makes friends, even finds in college the understanding woman he would eventually marry, then begin a thriving, creative career and parenthood totally unlike the one he survived.

Memories continue to haunt Burke. Having eaten most of his childhood meals at neighborhood bars, in the alley behind one, threatened, he was forced to watch while his mother was raped. Bartenders often were babysitters. He sees both parents develop their affection for the whiskey bottle, an attachment from which his mom never recovers as the Burke dry cleaning business consumes their time and energy. Burke also tries to stop the abuse of nephew Freddie and struggles to help both older brothers as they face their own trials and dark memories of their mom and dad.

Although the family story is a rocky, bitter, battling one, they are held together by love. Burke emphasizes this, even though the book is subtitled "Depravity Reborn as Virtue." Dad even becomes a practicing Roman Catholic for a time as he smashes his attention to the distilled spirits.

"Mikie, please let me die", his mom pleads with him after being hospitalized one day in 1970 as blood gushes from her rectum and mouth.

She does not live much longer, and the hasty shopping trip for a proper funeral dress begins. Nothing existed in her wardrobe to make her look good. But Burke sees her dressed in love and determination, whatever the physical surroundings or inner struggles might have been.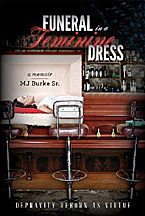 Paperback: pp.262
Publisher: MJ Burke Sr; 1 edition (May 14, 2013)
Language: English
ISBN-10: 0989028712
ISBN-13: 978-0989028714