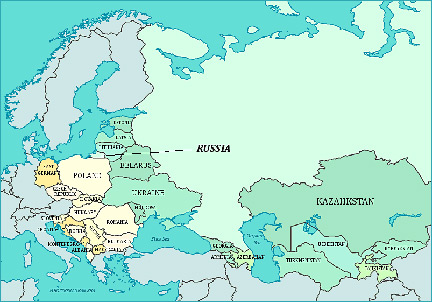 In December of 1991 the Soviet Union (the Union of Soviet Socialist Republics, or U.S.S.R.) was officially dissolved. From it emerged Russia (the Russian Federation) and a number of independent countries in Central Asia and Eastern Europe (shown in greens in the map). In addition the countries of Eastern Europe were freed from Soviet military domination (shown in yellows in the map). In Central Asia 8 new (or newly independent) countries emerged: Kazakhstan, Uzbekistan, Kyrgyzstan, Turkmenistan, Tajikistan, Georgia, Armenia and Azerbaijan. In Eastern Europe the six new (or restored) countries are Estonia, Latvia, Lithuania, Belarus, Ukraine and Moldova. The Eastern European countries freed from Soviet domination but not part of the U.S.S.R. are Poland, East Germany, Czechoslovakia, Romania, Bulgaria, Hungary, Albania and Yugoslavia. (Compliments of yourchildlearns.com)
by Jack L. Kennedy
International businessman Jim Hunt wants the reader to believe he is not a fictitious cloak and dagger character in Kenneth J. Kerr's spy story, Life of a Double Agent (XLibris) In fact, the focal point of this well-plotted, fast-moving and intriguing tale may be the author himself. At least that is what the author's own background, travel history and publicist would like one to think. Who is telling the truth? Read on, and figure the mystery out as you go. Are we ever entirely certain of some things? Perhaps not.

Author Kerr, pictured, is a retired businessman and world traveler. He loved his time spent in Hong Kong and Japan. As a member of the Peace Corps while his wife stayed at home, he was able to travel to Russia. Kryl Kerr became convinced that at times her husband led a very mysterious life.
Kerr's alleged fictitious lead character was attending the University of Delaware and working toward an ROTC commission upon graduation when he is approached by the CIA. A sense of patriotism and feel for adventure and the unknown leads Hunt to accept the government's offer, and soon his address book begins to fill up with a parade of names of worldwide contacts to whom he would feed information.
Hunt's military tour begins in Vietnam, and the explorations in Asia often have him leading a double life if it served his country, supplying intelligence to both sides. Hunt seems to be attracted, at least early in his career, to beautiful Asian spies for the other side who often pay him in sex, exotic food or both. In any case, this makes the book very tasty and easy to digest.
After retiring from the military, at least on the surface, Hunt goes to work for Dow Chemical. While based in California, he negotiates deals in alternative power sources, principally, those that often take him to old haunts and old contacts in Asia.
While Hunt again supplies some information to his old bosses at the CIA, along the way, he becomes involved in the freeing of some kidnapped Dow employees. His work takes him also to the Philippines and other political and cultural hotspots. He frequents Beijing, as a businessman or agent for the CIA or Chinese Communist government.
Hunt leaves Dow, and like the author's accomplishment, goes to Russia as a member of the Peace Corps. We are told Hunt has a strong but hidden hand in converting a few Asian or Russian bad guys to our side.
In this spy story the colorful and varied settings are as important as the characters. The writing is tight and rather plausible, if sometimes poorly edited. (For example, at one point Hunt gives someone what is called a "rye grin." He may have meant "wry," or maybe a pun on the word except he doesn't let the reader know he's done that. While such editing errors are amusing, they are not numerous.)
How much of Double Agent is truthfully based upon Kenneth Kerr's real life, of course, remains a mystery.
At no time did either character or author claim to have supplied intelligence benefiting Congress. And Congress having access to intelligence today would be expecting too much, but I digress.

Title - Life of a Double Agent
Author: Kenneth J. Kerr
Publisher: XLIBRIS (Mar. 28, 2013/
$15.63/paperback/384 pp.; 3.03/Kindle/540kb;$26.85 hard copy at amazon.com
ASIN: B00C62T08I
ISBN-10: 1483601684
ISBN-13: 978--1483601687